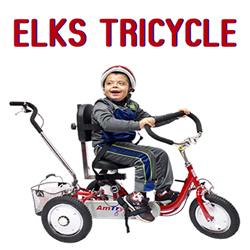 Our agency wants to ensure that special needs children have the same quality of life that all children should have
Forked River, NJ (PRWEB) July 19, 2017
Sharer & Associates Inc., a New Jersey based firm that provides insurance assistance, financial consulting, and related services to communities in the Forked River area, is announcing a regional charity drive to raise support for the Elks Therapeutic Bike program and generate donations to gift one local special needs student with a therapeutic mobility cycle.
The therapeutic cycle, called an AmTryke, is a modified tricycle engineered by Ambucs (American Business Club) to provide mobility and independence to special needs children. During this charity event, one such cycle will be gifted to a local special needs student, while additional resources will be donated to support the ongoing efforts of the Elks Therapeutic Bike program.
"Our agency wants to ensure that special needs children have the same quality of life that all children should have," says Donn Sharer, co-owner of Sharer & Associates. Sharer's partner, Bob Considine, is equally enthusiastic about the charity event. "These very special tricycles are therapeutic in that they build the child's skills and endurance and help some very special riders feel the freedom of riding a tricycle," explains Considine.
To help raise community support for the event, Sharer and Considine are mobilizing the resources of their firm to connect with local families, civic leaders, and educators utilizing a series of online social media and email tools. Further publicity for the event is anticipated pending the release of a cover story detailing the event scheduled for release in the newest edition of the Sharer & Associates online magazine "Our Hometown":
http://www.sharerandassociates.com/Our-Hometown-Magazine_39.
Sharer and Considine are long time members of an interstate charity support coalition called "Agents of Change." As proud affiliates of this group, the Sharer & Associates team selects and works with new regional charitable causes on a bimonthly basis.
Those who wish to learn more about the AmTryke mobility cycle charity event are encouraged by Sharer and Considine to visit the following page and get involved: http://www.sharerandassociates.com/Providing-a-Special-Tricycle-to-a-Deserving-Child_20_community_cause. A comprehensive list of all charity drives hosted by Sharer & Associates can be bookmarked on the firm's Community Causes page: http://www.sharerandassociates.com/community-cause.
About Sharer & Associates
As Personal Finance Representatives in Forked River and in Millstone Township, agency owners Donn Sharer and Bob Considine know many local families. Their knowledge and understanding of the people in the community ensures that clients of Sharer & Associates are provided with an outstanding level of service. Donn and Bob look forward to helping families protect the things that are most important - family, home, car and more. Sharer & Associates also offers clients a preparation strategy for achieving their financial goals. To contact an expert at Sharer & Associates, visit http://www.sharerandassociates.com/ or call (732) 446-4919 or (609) 971-8300.