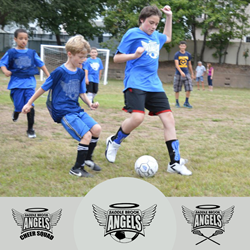 Every child deserves a chance to enjoy the thrill and challenge of team sports, and the Saddle Brook Angels offer the perfect blend of fun and safety for all the children in our community who have special needs
Rochelle Park, NJ (PRWEB) August 17, 2016
Tichio Financial Group, a New Jersey-based insurance and financial planning firm serving business and family clients in North Jersey and the Gateway Region, is launching a charity drive to benefit the Saddle Brook Angels, a sports program for children between the ages of 5-16 with special needs.
The Saddle Brook Angels program encourages an active lifestyle and works to promote self-esteem and teamwork while improving physical and social skills for developmentally challenged children of all ability levels. All coaches are registered and specially trained to provide a fun, safe, and non-competitive environment structured for inclusion and good sportsmanship.
"Every child deserves a chance to enjoy the thrill and challenge of team sports, and the Saddle Brook Angels offer the perfect blend of fun and safety for all the children in our community who have special needs," says Daniel Tichio, founder and director of Tichio Financial Group.
Mobilizing his professional team, Tichio has created an online social media forum and launched an email bulletin system to raise awareness of the Saddle Brook Angels and gather support for the program from families and friends in the region. Tichio Financial Group will also be publishing a full page article discussing the Saddle Brook Angels charity event in the next issue of the firm's webzine "Our Hometown": http://www.tichiofinancial.com/Our-Hometown-Magazine_39.
Tichio Financial Group has recently joined the ranks of the "Agents of Change" movement, a national charity involvement campaign. As part of this ongoing program, Tichio and his team will be working to support a new charitable cause or nonprofit organization in the North Jersey area every sixty days.
Readers who want to take part in the Saddle Brook Angels charity event alongside the Tichio Financial Group team are invited to visit the following page and make a personal commitment to assist the effort: http://www.tichiofinancial.com/Sky-is-the-Limit-for-Saddle-Brook's-Angels_12_community_cause. Readers who would like to track the involvement of the Tichio Financial Group in future charitable endeavors are invited to bookmark the agency's Community Causes list here: http://www.tichiofinancial.com/community-cause.
About Tichio Financial Group
As a Personal Finance Representative in Rochelle Park, agency owner Daniel Tichio knows many local families. His knowledge and understanding of the people in his community ensures that clients of Tichio Financial Group are provided with an outstanding level of service. Daniel and his team look forward to helping families protect the things that are most important - family, home, car and more. Tichio Financial Group also offers clients a preparation strategy for achieving their financial goals. To contact an expert at Tichio Financial Group, visit http://www.tichiofinancial.com/ or call (201) 843-4618.