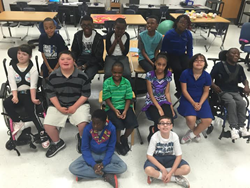 We're working to ensure that developmentally challenged students at Theo Davis Middle School have everything they need
Waldorf, MD (PRWEB) October 20, 2015
BWA Insurance Group, a family owned firm that provides full service insurance to families in Waldorf, La Plata, and the surrounding communities, has just completed a charity drive to assist Anthony Anderson, a local man diagnosed with leukemia, and is now planning a new charity drive to assist special needs students enrolled at Theodore G Davis Middle School in Waldorf.
BWA Insurance reports that the funds raised for Anthony Anderson's exceeded expectations, and the firm has issued a statement thanking all the community members who donated to his cause. Going forward, BWA Insurance has aligned with the Theodore G Davis Middle School in Waldorf to help raise funds that will be used to purchase "hooki stools": specialized chairs designed specifically for developmentally disabled students.
Hooki stools are unique in that they are stable and weighted to prevent tipping or flipping, helping to prevent disruptions that could interfere with the curriculum of the special needs class. "It's important to provide effective classroom resources for our special needs students," says Bill Waugh, owner and manager of BWA Insurance Group. "We're working to ensure that developmentally challenged students at Theo Davis [Middle School] have everything they need."
The BWA Insurance team is already interacting with community members and business leaders throughout the area in an effort to raise awareness of the needs of developmentally challenged students in Waldorf and to gather donations on their behalf. The team is also building a social media portal they hope will find even more supporters all across the East Coast.
In addition to assisting both Anthony Anderson and Theodore G Davis Middle School, BWA Insurance Group has worked with several other local charities and causes over the past few months, and plans to work with a minimum of one new charity every 60 days as part of an ongoing community improvement effort.
Those interested in assisting Waugh and his team as they raise funds for special needs students at Theodore G Davis Middle School are encouraged to visit the BWA Insurance website and make a personal contribution to the cause from this page: http://www.bwainsurance.com/Special-Stools-for-Kids-with-Special-Needs_8_community_cause. Those who want to learn more about the other charities and causes supported by BWA Insurance are invited to bookmark their Community Causes page: http://www.bwainsurance.com/community-cause.
About BWA Insurance Group
As an agency owner in Waldorf and La Plata, Bill Waugh, knows many local families. His knowledge and understanding of the people in his community help provide customers with an outstanding level of service. Bill and his team look forward to helping families protect the things that are important - family, home, car and more. They can also help clients prepare a strategy to achieve their financial goals.
To contact an expert at BWA Insurance, call (301) 932.4227.