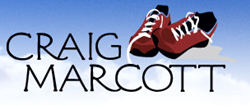 Melville, NY (PRWEB) March 14, 2014
Craig Marcott offers special needs workshops almost every month to help families with special needs children learn some basic information as well as learn how to plan for the future.
It's important to Craig to be able to help families on Long Island and further open their eyes to what they can do in terms of future planning for their children with special needs in this rapidly changing environment.
Craig Marcott has already had two workshops this month in March and has two more coming to finish off the last week of March. The first workshop was on March 5 at the Half Hollow Hills Agency Resource Fair. The second was on March 12 at the Premm Learning Center in Oakdale, New York, highlighting his workshop called "The Changing Landscape of Special Needs...And How To Plan For It!"
Families need not worry if they missed both of these first two workshops of the month. Craig Marcott will also be at the Sachem North Resource Fair on March 24 as well as at the Copiague School District on March 26 to share his newest workshops.
The last workshop for Craig marks his seventh workshop he has delivered this year alone with another coming up on April 8 at the Three Village Resource Fair. SEPTA groups also invite Craig to speak so as to learn what Action Steps parents need to take to prepare for the future.
For those parents who are unable to attend his workshops, they may visit his website to learn more about what Craig Marcott can do for them and their families.
For more information about all services that Craig Marcott offers, including special needs consultations, planning and Guardianship services, visit http://www.specialneedsplanli.com. To arrange a speaking engagement, call Craig at (631) 286-1061.
Craig Marcott has over 20 years' experience as a Certified Financial Planner™ and 100% of his practice is devoted to Special Needs and Estate Planning. Many parents are attracted to his holistic team approach, which extends to his Guardianship and SSI/Medicaid services. Craig's personal expertise and engaging presentations make him a popular speaker with schools and organizations serving the special need population.
"My job is to help make the present less stressful by planning for the future." – Craig
Craig Marcott is located conveniently at 445 Broadhollow Road, Suite 25 in Melville, New York 11747. Craig may also be reached at 631-286-1061.