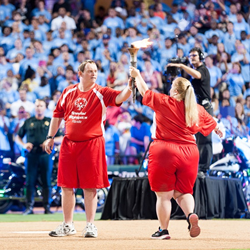 Florida Special Olympics has a special place in our heart, and we hope everyone in our community will come out and join us as we 'pull' for our favorite teams during this event
Viera, FL (PRWEB) October 17, 2016
Mimbs & Associates, a central Florida financial planning and insurance agency with offices that serve communities in and around the Cape Canaveral region, is embarking on a charity drive to support the Florida chapter of the Special Olympics for the legendary Plane Pull Event.
The Special Olympics Plane Pull pits teams of up to 15 participants in a competition to pull a full-sized, 50 ton 737 airliner across 12 feet of tarmac. Several awards are handed out to teams at the conclusion of the event, including awards for fastest time, slowest time, and most team spirit, and all donations generated by the teams will go to provide year-round training and support to the 36,000 Special Olympics athletes in Florida.
"Florida Special Olympics has a special place in our heart, and we hope everyone in our community will come out and join us as we 'pull' for our favorite teams during this event!" says Jill Mimbs, founder and acting manager of Mimbs & Associates.
Capitalizing on a growing network of friends, associates, families, and local community leaders, Mimbs and her team are working to gather support and donations for the Special Olympics Plane Pull charity initiative over social media and email. The Mimbs team is also in the process of producing a full length article on the charity event for publication in the firm's webzine "Our Hometown": http://www.mimbsassociates.com/Our-Hometown-Magazine_41.
Several noteworthy charitable causes and nonprofit foundations in central Florida have enjoyed the support of Mimbs & Associates over recent months. As committed participants in the nationwide "Agents of Change" charity involvement campaign, the Mimbs team plans to support a new local charity every other month.
All those who would like to be part of the charity event on behalf of the Special Olympics Plane Pull in Florida are personally invited by Mimbs and her team to follow this link and make an effort to support the event: http://www.mimbsassociates.com/Helping-People-with-Intellectual-Disabilities-Feel-Part-of-the-Community-_26_community_cause. Information on past charitable events hosted by Mimbs & Associates is available on the agency's Community Causes page: http://www.mimbsassociates.com/community-cause.
About Mimbs & Associates
As a Personal Financial Representative in Melbourne, Jill Mimbs knows many local families. A special knowledge and understanding of the people in Florida allows Mimbs & Associates to provide clients an outstanding level of service. Mimbs & Associates is here to help families like yours protect the things that are important – your family, home, car and more. Jill Mimbs and her team can also help you prepare a strategy to achieve your financial goals. To speak with a helpful and knowledgeable expert from Mimbs & Associates, please visit http://www.mimbsassociates.com/ or call 321-254-0406.