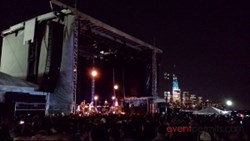 'Bob Dylan is a legend, and we are so honored to have been able to work on this concert event. It was a once in a lifetime opportunity.'
Hoboken, NJ (PRWEB) August 19, 2013
EventPermits, a special event permit agency, recently assisted The Bowery Presents in the planning and production of Bob Dylan's Americanarama tour stop in Hoboken, New Jersey. The six-hour, one-day festival, which included performances by Bob Dylan and his band, Wilco, My Morning Jacket and Ryan Bingham, took place at Park A Pier in Hoboken, New Jersey on Friday, July 23. To assist in the planning of this event, the EventPermits team worked closely with city officials to secure the Building Permit and the Stage Permit, which were both needed to use the stage and construct other structures for the event. Additionally, the team secured the the Generator Permit needed to power the event, the Fire Permit, and the Parking Permit.
"This was truly one of the most exciting events we have gotten to work on this year," said Event Manager Stella Fitzpatrick. "Bob Dylan is a legend, and we are so honored to have been able to work on this concert event. It was a once in a lifetime opportunity."
During the concert, Dylan performed songs off of his latest album as well as several of his classics, including "Tangled Up in Blue," "A Hard Rain's Gonna Fall," "I'm Sick of Love," and "All Along the Watchtower." The highlight of the festival, however, was undoubtedly the performance of "The Weight" by Dylan with the leaders of Wilco and My Morning Jacket.
EventPermits cuts through the red tape of the special event process, working as a behind-the-scenes support team, exclusively with, and on behalf of their advertising, public relations and event marketing agency clients, in order to secure prime locations and the necessary permits for successful special events from coast to coast. Based in Hoboken, New Jersey and the New York City metro area, EventPermits also has fully staffed offices in Atlanta, Chicago, Los Angeles, New Orleans, San Francisco and Toronto. To obtain a quote, visit http://www.eventpermits.com or contact Stella Fitzpatrick by telephone at (201) 223-1602.