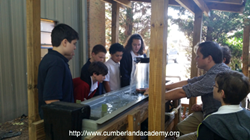 Our students are able to make a connection between abstract and real life.
Atlanta, GA (PRWEB) October 28, 2014
Atlanta school for learning disabilities Cumberland Academy of Georgia is currently providing students with an innovative and interactive science experience in the school's Fish Hatchery. This program aims to give students the opportunity to gain hands-on experience with the curriculum they are learning in the classroom.
Instructors at Cumberland Academy of Georgia have developed the Fish Hatchery—an independent environment that houses trout fish eggs. Around 1000 trout eggs are delivered to Cumberland twice a year, enabling students to become scientists while studying the eggs throughout their entire life cycle.
The student-scientists at Cumberland are responsible for a large amount of responsibilities other than merely studying the eggs. In order for the trout eggs to reach full maturity and develop into fish, many environmental factors must be manipulated within the Fish Hatchery. The students act as hatchery managers by ensuring that the water remains at a constant temperature with no fluctuations. They also inspect the chemical makeup of the water to guarantee it stays at a specific pH balance. Students are also responsible for rolling the eggs constantly, mimicking how they would naturally move in a river. Once the eggs have been hatched, the students are able to feed the baby fish as well. These responsibilities are similar to what scientific professionals would undertake if given the same project, allowing the students to gain a real understanding of their curriculum.
The student hatchery managers will study and interact with the fish eggs until they reach full maturity and evolve into fish. Cumberland will then organize a field trip at the end of November to the Chattahoochee River where the students will release the fish into their natural habitat.
"This Fish Hatchery becomes a real life experiment for the students to learn both biology and chemistry," said Mihkel Allpere, a science instructor at Cumberland Academy of Georgia. "Our students are able to make a connection between abstract and real life."
About Cumberland Academy of Georgia:
Cumberland Academy of Georgia specializes in the needs of students in grades four through 12 who have high-functioning Autism, Asperger's, Attention Deficit Disorder (ADD), Attention Deficit Hyperactivity Disorder (ADHD) and learning disabilities. Cumberland was founded in 2007 by Debbi and Matthew Scarborough, and is a fully accredited, independent, non-profit school that seeks to provide a safe and supportive academic atmosphere for its students. Cumberland accepts applications year-round. To schedule a family tour, please contact Terri Brooks, Director of Admissions at 404-835-9000 or send an email to admissions(at)cumberlandacademy(dot)org. To learn more about Cumberland Academy of Georgia, please visit http://www.cumberlandacademy.org.