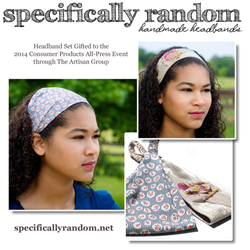 No one should have to put up with hair accessories that pinch, slip or bind.
Indianapolis, Indiana (PRWEB) July 22, 2014
Specifically Random (http://www.specificallyrandom.net) will gift its stylish, comfortable, easy fit fashion headbands at GBK's 2014 Primetime Emmys Celebrity Gift Lounge in association with The Artisan Group®. The Gift Lounge will take place at an exclusive location in Beverly Hills on August 22-23, 2014.
Celebrities and VIPs attending the lounge will find tucked inside their signature black The Artisan Group® swag bag, two Specifically Random customer favorites – an Upcycled Flower Headband ($18.00), handcrafted from t-shirt material and presented in a fun mix of Kelly green, navy blue, yellow, gray, and hot pink, and a five-inch wide batik fabric Retro Headband ($12.00) in Hot Pink or Navy Blue.
Asked why she selected these styles for the Primetime Emmys gifting, Specifically Random designer/founder Kelly LaRoche said, "My upcycled t-shirt headbands are playful, soft, comfortable, and environmentally-friendly; as a result, they've been quite popular in boutiques and as gift items. The wide headbands are really versatile and can be worn on top of the head or over the forehead, or folded in half for a thinner look—they take the head wrap to a new level."
Specifically Random was founded in 2009 to address Kelly's concern that the usual one-size fits all headbands weren't making the grade in terms of fit and comfort, especially for athletes, fitness buffs, chefs, and nurses, for whom keeping hair out of the way is a necessity. Determined to find a solution, she designed and tested a variety of concepts, eventually coming up with an innovative line of headbands, wraps, and scarves in four standard sizes to fit any size and shape of head.
Says Kelly, "No one should have to put up with hair accessories that pinch, slip or bind. My goal is to provide each of my customers with a stylish headband that fits well and suits their needs."
Specifically Random hair accessories look equally great on men, women, and children, with the only gender-defining characteristic being the choice of fabric, color or pattern, and can be used to hold back unruly hair, cover thinning hair, hide grays or spruce up one's wardrobe. They're ideal for athletes and a practical solution for chefs and nurses. Teens love them as a fashion accessory and because they're so comfortable, they're perfect for little girls who won't normally keep anything on their head.
All Specifically Random headbands are individually handcrafted by LaRoche and come in a variety of styles, including wide, extra wide, kerchief, flower, and fabric choices. With looks from urban to vintage and everything in between, there is something for everyone.
The Upcycled Flower Headband and Wide Headband, along with the entire Specifically Random line, are available to purchase at specificallyrandom.etsy.com. They can also be found in boutiques across Indiana, at Co-op 28 in Los Angeles, California and Bizzy's Mobile Boutique, a traveling boutique on wheels based in Zionsville, Indiana.
Specifically Random was founded with the concept of doing one thing—headbands—and doing it well. As a result, the company has many satisfied, repeat customers and a five-star rating on Etsy. Wholesale inquiries are welcome.
*This event is not affiliated with the Primetime Emmy show; Specifically Random is not in any way affiliated with the Academy of Television Arts & Sciences.
ABOUT SPECIFICALLY RANDOM:
Many have tried headbands only to have them pinch, bind or slip. That's because most fabric headbands are offered as "one size fits all." In contrast, Specifically Random (http://www.specificallyrandom.net) headbands are made to fit the customer's individual head. Specifically Random is committed to providing its customers with headbands that are fashionable and comfortable enough for all-day wear that won't slip or bind.
Designer Kelly LaRoche personally makes each headband using the best quality fabrics, non-roll elastic, and triple-enforced seams so the headband won't fall apart or change shape.