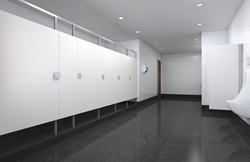 We wanted a look and feel that was beyond the norm. This extended from the use of glass and metal on the school's exterior to the strikingly fresh motif of each restroom with Eclipse partitions.- Bill Halasz, William R. Halasz Architects
Scranton, PA (PRWEB) March 31, 2017
The architect for the Elizabeth Ann Seton Catholic High School, Myrtle Beach's first Catholic High School, specifically selected Eclipse Partitions from Scranton Products for their crisp, contemporary design and bright, white finish. Accented by gray tile and white fixtures, the Eclipse partitions blend seamlessly with each restroom's clean décor.
"We wanted a look and feel that was beyond the norm," said Bill Halasz of William R. Halasz Architects in Myrtle Beach, SC. "This extended from the extensive use of glass and metal on the school's exterior to the strikingly fresh motif of each bathroom."
Donated to the high school by Bill Meany, owner and vice president of the Palmetto Parts Company of Myrtle Beach, Eclipse Partitions are made from HDPE (high-density polyethylene), which is durable, easy-to-clean and extremely resistant to scratches and graffiti. And, because they are not metal, they will not rust or harbor bacteria. Their sleek, sophisticated design also offers hidden hardware for clean aesthetics and angled door edges ensuring enhanced privacy.
"Our company has been working with Scranton Products for the past 25 years," explained Meany. "We always push customers in their direction. As opposed to other materials, HDPE wears extremely well. They are color-fast, don't deteriorate and most importantly, once their installed we tend to never hear from the customer again."
Construction of the 15,400 sq.ft first phase of the Catholic high school began in 2015 on a 75-acre site provided by the Diocese of Charleston. Entirely funded by parishioner grants and donations, St. Elizabeth Ann Seton Catholic High School is dedicated to providing a rigorous, college preparatory education in a safe and nurturing environment. The school was completed in December 2016.
The recent opening of the school represents educational opportunities for ninth-grade students. Current plans call for the ongoing construction of a full four-year religious high school in multiple stages include additional Classrooms, a Sports complex, and Music and Art venues. A future church and elementary school are also planned for the site.
About Scranton Products:
For more than 25 years, Scranton Products' premium brands have led the plastic partitions market setting new benchmarks for the industry in quality and innovation. Our well-known brands, including Hiny Hiders®, Resistall™ Tufftec® and Duralife®, feature the most durable, low maintenance and best looking partitions and locker products in the industry. They won't dent, rust or need painting, and because they have color throughout, delamination is not a factor. Visit http://www.scrantonproducts.com.