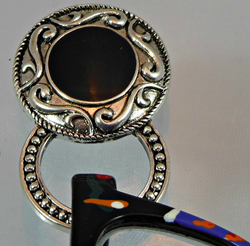 Brighten the Holidays and the gift list with these stunning magnetic eyeglass holders.
Cedar Rapids, IA (PRWEB) November 13, 2014
Nifty-Nifty.com, makers of innovative, 'As Seen on TV' fashion gadgetry, has just announced how to brighten up the holidays, with their incredible Specs-In-A-Sec Magnetic Eyeglass Holders.
"Whether making out your holiday gift list, referencing an old family recipe, or calling to invite friends and family over for some seasonal festivities, you'll want to have your eyewear close at hand! Our Specs-In-A-Sec Magnetic Eyeglass Holders will keep you covered and will prevent you from losing precious time searching for your eyeglasses," states Nifty-Nifty.com co-founder, Wendy Miller. "Plus, Specs-In-A-Sec make great, affordable gift ideas for the people who seemingly have everything."
Learn more about Nifty-Nifty.com's Specs-In-A-Sec Magnetic Eyeglass Holders, here:
*http://www.nifty-nifty.com/specs-in-a-sec-best-magnetic-eyeglass-holder/
Specs-In-A-Sec Best Magnetic Eyeglass Holders are the most stunning and functional fashion accessory around. These decorative little eyewear holders are simple to use, and provide all-day access to one's eyeglasses, readers, or sunglasses. All Consumers need to do is simply place the gorgeous portion on the outside of fabric, and the strong magnetic portion on the inside and enjoy the ease of accessing eyewear at a moment's notice.
These broach-like baubles, which always make a statement, come complete with a perfectly sized hanger hoop that keeps eyewear intact all day long. And, for those who don't wear eyeglasses, these holders also function beautifully as hangers for ID badges, fashion scarves, pens, trinkets, or, as stand-alone jewelry.
Available in over a dozen stylish designs, there's a Specs-In-A-Sec Magnetic Eyeglass Holder to satisfy everyone's fashion flair. From Black Circle, to Abalone Heart, to the Biker and Realtor designs, everyone is certain to find a holder that's just right for them (or a friend) this holiday season.
About Nifty-Nifty.com 
Nifty-Nifty.com is the world's leading online retailer of innovative, nifty products. The company specializes in online retailing of products such as the Specs In A Sec Magnetic Eyeglass Holders, Phubby Wrist Cellphone Holder, Cell-Fie HipBand Cellphone Holder, Biker Purses, Cross Body Cell Phone Purses, and other innovative online products at the best prices with no charge shipping in the USA and Canada.
http://www.Nifty-Nifty.com
  Tel: 858-248-2302