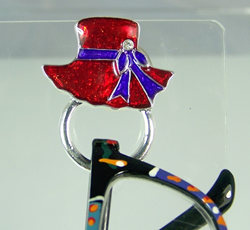 Nifty-Nifty.com honors the Red Hat Society with Specs In A Sec Magnetic Eyeglass Holder.
Milford, DE (PRWEB) June 18, 2014
The innovative minds behind Nifty-Nifty.com, makers of 'As Seen on TV' hands-free fashion accessories, have just launched their smashing new Specs-In-A-Sec Red Hat design. This adorable little replica perfectly duplicates the iconic red hats worn by the supportive, international sisterhood.
"We at Nifty-Nifty.com share a common belief system with the Red Hat Society. Their 'Fun, Freedom, Fulfillment, Fitness' philosophy is one we also embrace, so honoring them with our Specs-In-A-Sec Red Hat Design seemed perfectly natural," says Nifty-Nifty co-founder, Wendy Miller.
Discover Nifty-Nifty.com's Specs-In-A-Sec Magnetic Eyeglass Holders, Here:
*http://www.nifty-nifty.com/specs-in-a-sec-best-magnetic-eyeglass-holder/
Specs-In-A-Sec Magnetic Eyeglass Holders are a revolutionary, fabric-friendly way to keep up with one's eyeglasses, sunglasses or readers. By simply placing the super strong magnet portion on the inside of one's shirt, jacket or tie, and the adorably decorative portion on the outside, consumers are able to confidently keep up with their eyewear wherever they go.
What's more, the Specs-In-A-Sec Magnetic Eyeglass Holders, constructed of the finest precious metals and gemstones, and available in a wide variety of designs including; Peace Love, Black Circle, Silver Swirl, Brighton Heart, and the latest, Red Hat, are so utterly attractive; they may even be worn as a fashion brooch, by eyeglass wearers and non-eyeglass wearers alike.
Visit Nifty-Nifty.com today to view (and order) the spectacular Red Hat Specs-In-A-Sec Magnetic Eyeglass Holder, as well as other must-have items, and encourage others to do the same.
About Nifty-Nifty.com
Nifty-Nifty.com is the world's leading online retailer of innovative, nifty products. The company specializes in online retailing of products such as the Specs In A Sec Magnetic Eyeglass Holders, Phubby, Cell-Fie HipBand Cellphone Holder, Biker Purses, Cross Body Cell Phone Purses, and other innovative online products at the best prices with no charge shipping in the USA and Canada.
http://www.Nifty-Nifty.com 
Tel: 858-248-2302