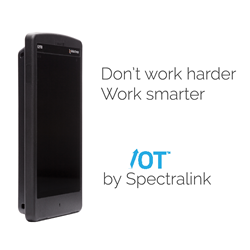 Spectracom Group provides IT solutions for healthcare, manufacturing and you!
Atlanta, GA (PRWEB) June 25, 2014
Communication is one of the many essential parts of a functional hospital. However, it always seems to be lacking. Miscommunications become the norm and eventually lead to an unfortunate accident. Now with the new PIVOT 87-series by Spectralink, you no longer need to worry. Instead of relying on cheaper commercial cell phones, the PIVOT allows its users to communicate throughout the workplace without any major complications. With the perfect blend of versatility, protection, and reliable communication, the PIVOT is the ideal work smartphone for the healthcare industry.
The PIVOT was designed to be able to last in tough working environments. Because it was built with chemical resistant fiberglass plastic and shatter/splash/dust resistant DragonTrail™ glass screen, it doesn't matter whether it is struck with physical force or with harsh chemicals, the PIVOT stays strong. It also comes in different colors and models. Both the PIVOT 8741, standard model, and the PIVOT 8753, advanced model, which comes with a 1D/2D scanner attached, comes in the classic black and the iconic health care blue.
Both models of the PIVOT run a familiar customizable operating system among smartphones, Android 4.1.2. Jelly Bean. Everything from the background to the widgets/applications in the User interface can be changed to your own personal preferences. If you would rather use XML solutions, that is readily available as well. The Android operating system on the PIVOT is updatable, making it future proof and available for new features.
The PIVOT comes with a variety of intuitive features, both traditional and new. They all come with a few physical features, like an integrated vertical kickstand, a full duplex speaker phone, standard microphone, panic button, push-to-talk button, and an ergonomic design. The PIVOT also has a place for attachable belt clips and shoulder lanyards. As for more internal features, the PIVOT brings back VoWi-Fi roaming and HD voice. This allows its users to be able to communicate between each other over a secured private WLAN network, which ensures good reception and no interference from unreliable carriers, which commercial cellular devices depend on.
The PIVOT comes with many different features, but there are specific ones that Spectralink offers that can be rather useful to IT managers as well as nurses. WEP/WEA/WEPA2 security protocols provide users security when sending information over wireless networks. The PIVOT also comes with RTSL and WLAN. These features allow IT to keep the locations of users within the network no matter where they are. It only takes a moment for a situation to take a turn for the worse, so it is important for nurses to be able to get to a patient as soon as possible.
Spectracom Group is the first Expert Level partner with Spectralink and works with hospitals nationally to provide data networking and communications at a healthcare level. Spectracom Group ensures quality and reliability when it comes to purchasing and installing software and hardware. If you need an IT expert specialized in healthcare, please call Spectracom Group. Spectracom Group offers both colors and models of the PIVOT, along with accessories like the charging dock, lanyard, and other much more. Spectracom Group guarantees replacement, fast and courteous service, security, and most importantly, experience in the healthcare industry.