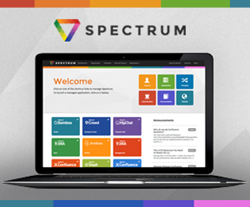 Spectrum puts you and your business in control. You pick the tools, your hosting solution and your infrastructure. Never before has such flexibility been offered as a scalable commercial product. - Clearvision CEO, Gerald Tombs
(PRWEB) March 11, 2015
Spectrum 1.5 is the biggest ever release of Clearvision's unique best of breed Platform as a Service (PaaS). Cementing its position as the next evolution in ALM, this latest version proves that Spectrum is the most flexible ALM platform on the market.
The Spectrum framework has already gained a foothold in the PaaS industry thanks to its innovative approach to ALM, combining Atlassian and open source tools into one seamless solution.
Spectrum's best of breed tools include collaborative project management tools such as JIRA, Confluence and HipChat, multiple version control tools (GIT, Subversion), continuous integration tools (Jenkins, Bamboo) and testing solutions such as Zephyr.
Tools are combined with exemplar processes, offering an end-to-end development environment, from planning through to product release.
This latest iteration brings a beautiful new tiled interface to the Spectrum Workbench which is completely customisable. This flexibility is ingrained into the development culture of Spectrum and perfectly balances an intuitive UI with typical programmer practicality.
Clearvision CEO, Gerry Tombs, explains: "PaaS revolves around flexibility, speed to market, and seamless deployment. Rarely however does the adaptability of PaaS extend to the tool choices."
"Spectrum puts you and your business in control. You pick the tools, your hosting solution and your infrastructure. Never before has such flexibility been offered as a scalable commercial product. Spectrum is the next evolution in lifecycle management," he added.
In addition to the new user interface, Spectrum 1.5 also brings a simpler log in process to its tools. Utilising Crowd single-sign on technology, users now only need to log in to one Atlassian app to be signed into every Atlassian app in the Spectrum stack.
This latest version also brings an innovative new process versioning function, meaning administrators can manage and track changes to processes used in development.
This reduces risk for development teams introducing a new process, as the administrator can always revert back to a historic way of working.
Spectrum 1.5's move to a self contained apache tomcat server is also designed with administrators in mind. This lightweight approach means:

Rapid Spectrum install!
Multiple hosting options - behind the firewall or a hybrid of both.
Simple and continual upgrades to improve and refine the product.
Moving Spectrum between servers can be done with a USB stick.
The Spectrum team also added an RSS feed reader to the Workbench, which means content can be shared across development teams, and content can be delivered instantly to all users in real time. This RSS widget joins a long list of features developed to ensure collaboration across distributed teams.
Spectrum is designed to give management one centralised location for managing tools and processes which ensures complete governance of devops, without compromising the flexibility that agile software development teams need.
These latest additions are part of a continued series of improvements based on client feedback. All new features are designed to make the administration, management and general use of software development tools as simple as possible.
With more and more organisations adopting PaaS solutions as a cost effective and productive solution for agile software development, the Spectrum user base is sure to rise.
Anyone wishing to trial Spectrum ALM can do so for free by visiting http://spectrumalm.com/trial/.