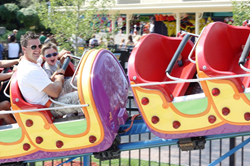 Mother Nature always bats last
Liberty, MO (PRWEB) January 28, 2015
Spectrum Weather and Specialty Insurance, Inc., the premier domestic broker of rain insurance, adverse weather insurance, snow insurance, event cancellation insurance, and other event-related insurance products, will lead a discussion at the Missouri Association of Fairs and Festivals annual convention, to be held in Columbia, Missouri, January 29 through February 1, 2015.
The annual Missouri Association of Fairs and Festivals (MAFF) Convention is an opportunity for representatives of companies that work with fairs and festivals to come together with representatives of those events to help educate each other and share ideas of business management, fair operations, leadership, and other aspects unique to these annual celebrations. Members of MAFF include fairs and festivals from the state of Missouri, along with equipment suppliers, rodeos, performing artists, concessionaires, entertainment agencies, and others providing goods and services to the fairs and festival industry.
Spectrum's President, Robert Holmes, will be in attendance through the entire convention. Spectrum will also be an exhibitor at the associated trade show and lead a workshop on the various types of weather insurance and cancellation insurance products available to the members of the MAFF. During the workshop, Mr. Holmes will discuss the variety of weather insurance options that go beyond the standard rain insurance. It will be Spectrum's fourth consecutive year that Spectrum will be in attendance.
"As our climate continues to become more volatile and weather extremes seemingly a more common occurrence, entities that have such a high degree of financial success dependent on the favorable weather, such as fairs, festivals, and other outdoor events, will continue to face challenges each time they hold an event. Those involved with many outdoor events have seen that first-hand over the past several years", stated Mr. Holmes. "It is Spectrum's goal that those in this industry are educated with regards to the specialty weather insurance products available to help mitigate those risks. After all, Mother Nature always bats last."
Spectrum was established with the goal of providing rain insurance, event cancellation insurance, snow insurance, and other specialty insurance solutions that are simple to understand and purchase, and with the highest degree of customer service in the industry. Spectrum serves events both large and small, including fairs, festivals, concerts, and other outdoor events impacted by weather. In addition to rain insurance, Spectrum provides liability insurance for events, as well as insurance for weather-based promotions. Spectrum also provides snow insurance to help protect against extremes in winter snowfall for snow removal contractors and others exposed to snowfall volatility.
For more information about Spectrum Weather and Specialty Insurance, Inc., visit http://www.spectrumweatherinsurance.com.
For more Information on the Missouri Association of Fairs and Festivals Association Convention, visit mofairs.org.