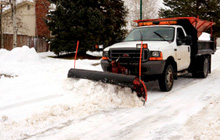 Mother Nature always bats last
Liberty, MO (PRWEB) April 27, 2015
Spectrum Weather and Specialty Insurance, Inc., the premier domestic broker of snow insurance, rain insurance, event cancellation insurance, and other weather-related insurance products, has been selected as a presenter for the inaugural Snow Academy Series. The Snow Academy series provides an opportunity for leaders in the snow removal sector to meet and address the primary challenges that face the industry throughout the year. Developed by the Accredited Snow Contractors Association (ASCA), the Snow Academy will consist of three regional seminars, and will take place in May and June of this year.
The ASCA's Snow Academy provides education to snow contractors at a local level. A half-day of education provides information on topics such as risk management, snow contracts, weather insurance, ISO9001/SN9001, salt, and industry standards. Each day's discussions will be tailored to the city in which the event will be held. The current schedule for the Snow Academy is Chicago, Illinois, May 11, 2015, Westchester, NY, May 19, 2015, and Trenton, NJ, June 11, 2015. Activities will consist of presenters from industry leaders as well as visits with state legislators to address to lobby for change in the snow industry.
Spectrum's President, Robert Holmes, will be the presenter at each of the three planned events. "As our climate continues to become more volatile, companies with revenue that is highly correlated to weather will continue to face challenges each year. Those in the snow and ice removal industry have seen that first-hand over the past several winters", stated Mr. Holmes. "It is Spectrum's goal that those in this industry are educated with regards to the specialty insurance products available to help mitigate those risks." Holmes notes that while a company can be as proactive as possible when planning for an upcoming winter plow season, "Mother Nature always bats last."
"Our goal for the Snow Academy series is to bring snow company executives together with other company leaders from both within the snow removal community as well as noted professionals that serve our industry, to provide valuable and innovative information to our members," said Kevin Gilbride, ASCA's Executive Director. "Spectrum is recognized as the leading provider of snow insurance to our industry and we welcome their participation in these events."
The ASCA is a trade association with the purpose of advancing the professional snow and ice management industry and to promote its role in performing high-risk services to society. It achieves that goal by providing educational programs and publications in all aspects of snow and ice management, conducting meetings and other programs designed to promote the exchange of ideas among members, collecting and disseminating information pertaining to the industry, developing and maintaining professional accreditation programs to encourage high standards, and advocating the interest of the snow and ice management industry to local, state/provincial, federal and international governmental bodies, insurance companies, and allied associations.
Spectrum was established with the goal of providing snow insurance to help protect against extremes in winter snowfall for snow removal contractors and others exposed to snowfall volatility. In addition to snow insurance, Spectrum provides rain insurance and event cancellation insurance to events both large and small, including fairs, festivals, concerts, and other outdoor activities impacted by weather, as well as insurance for weather-based promotions.
For more information about the Accredited Snow Contractors Association, visit http://www.ascaonline.org.
For more information about Spectrum Weather and Specialty Insurance, Inc., visit http://www.spectrumweatherinsurance.com.