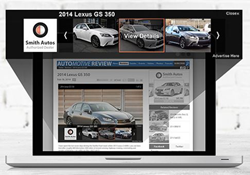 Our auto dealer clients are seeing significant value when using in-image campaigns; lifts of 20-30% are not uncommon.
New Westminster, B.C. (PRWEB) April 29, 2014
The IAB recently announced the release of its "In-Image Advertising Primer" discussing this ad type as used in native marketing campaigns. In-image automotive ads enable relevant marketing content to be overlaid on top of editorial images, in various forms and across distinct ad units. For Speed Shift Media's Auto Audience Network ™, the in-image ads dynamically show dealer's vehicle inventory which contextually relates to the editorial images when a reader is on an automotive review or article. When the reader clicks on the vehicle inventory shown in the in-image ad, the reader is then brought to that dealer's vehicle detail page on that dealer's website.
The IAB recognized the contribution of Speed Shift Media in the preparation of the Primer. "We're thrilled that the IAB has recognized our work with in-image auto dealer campaigns focused on driving measurable results such as traffic to the dealer's vehicle detail page and leads in a cost effective manner; it is clear that the Automotive industry is seeing the value of these types of native ad campaigns," stated Steve Kump, President and CTO at Speed Shift Media.
The Primer demonstrates the extent to which in-image ads are effective by looking at five major brand case studies, including Mazda and a large dealer group based in the Northwest. The study found increases in click-through rate, visitor engagement, and qualified leads among other factors. According to Kump, "Our auto dealer clients are seeing significant value when using in-image campaigns; lifts of 20-30% are not uncommon."
The paper also found that in-image marketing strategies, such as those employed by Speed Shift Media, generated a rise of 37% in driving brand awareness; at the same time, in-image ads were 51% more viewable than traditional automotive display marketing.
The Primer's findings support the conclusion that in-image advertising is a powerful tool that reaches its target audience effectively, thereby enabling marketers to capitalize on it. It establishes that this novel approach to marketing harnesses the power of images to draw consumers in and persuade them to interact with the ad content.
Company Info
Speed Shift Media: We provide dynamic inventory display advertising solutions to auto dealers, digital publishers, and agencies. Our platform combines advertiser data in real time — inventory, promotions, and messaging — using sophisticated targeting, retargeting, and self-optimization technologies. We also offer an innovative, premium automotive display advertising network that delivers unparalleled relevancy and engagement. In short, we make sure the right message always reaches the right user, for exceptional results.