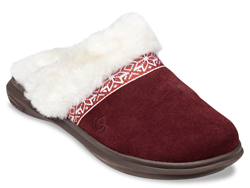 Ours is unique because even though it's designed as a slipper, it can be worn more like a shoe. It has our Total Support® technology in the arch, and a sturdy outer sole.
WACO, Texas (PRWEB) September 28, 2015
Football. Pumpkin lattes. Slippers. Autumn is in the air, and whatever your favorite activity, Spenco's new line of fall footwear is here to support it.
The company has launched its 2015 fall line, with new styles and colors for men and women, in retail stores and online.
In response to market demand, the line includes Spenco's most extensive selection of slippers and slides to date. New for fall are the Supreme Slide, Supreme Slipper and Nordic Slide.
"We've worked feverishly to expand the lineup of slip-ons this year," said Brian Mangione, Spenco product manager. "Slippers have done well for us. Ours is unique because even though it's designed as a slipper, it can be worn more like a shoe. It has our Total Support® technology in the arch, and a sturdy outer sole."
That makes them last longer than most other slippers, which get easily worn out, he said.
Reflecting a style trend, the Nordic slides for women have a northern European look, with smooth suede, a wool-like lining and a traditional Nordic ribbon detail. For men, the new Supreme slides and slippers have an all-suede upper and synthetic shearling lining, with a heavy stitching and trim to give them a rustic feel.
Also a part of the fall line is the popular Siesta Slip-on, a Spenco classic, as well as the Nomad Moc. Designed for the outdoors, Mangione says the Nomad Moc is perfect for trail walkers and hikers.
"We see a trend for outdoor footwear, but a lot of consumers don't want to be over-teched, especially Millennials," he said. "They want a good outdoor shoe to enjoy the outdoors, but they want to do it on their terms, in a shoe that doesn't overdo it."
Mangione notes the state-of-the-art orthotic inside the Nomad Moc is a $40 retail value alone, making the shoe an excellent value at $99.99. It comes in whole and half sizes for both men and women.
Rounding out the fall line are some new sandal styles, like the Alex, and the popular Yumi flip-flop, perfect for warmer regions or a winter getaway.
Spenco designs all footwear around its Total Support® orthotic insole, promoting foot alignment and offering motion control and cushioning. Research shows foot support can reduce pain, improve posture and prevent injuries.
"Our footwear continues to have a very strong following of athletes, from the weekend warrior to the professional," said Jeff Antonioli, Spenco's vice president of sales and marketing. "An athlete needs foot support all day, not just when training. But anyone on their feet can benefit from proper support."
The Shape That Feels Great™ footwear line retails for $49.99 - $109.99 at many shoe stores and on the Spenco website.
Spenco Medical Corporation
Spenco, a leading producer of high quality insoles and foot care products, helps people everywhere achieve its motto of Love Your Feet®. Based in Waco, Texas, Spenco provides the most advanced sports medicine and first aid products available, as well as a line of premium shoes for men and women. Founded in 1967 by renowned foot care specialist Dr. Wayman Spence, Spenco earns consumer trust in its products by focusing on superior customer service to distinguish itself in the outdoor, sports, foot care and medical markets. Spenco Total Support® Insoles carry the American Podiatric Medical Association seal of acceptance. Learn more about Spenco products by visiting spenco.com or calling 800-877-3626.