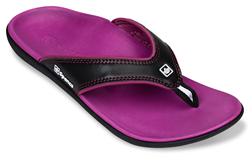 Spenco's flip-flops and slides are a great example of summer footwear with orthotic-grade arch support and a strong, stable sole.
Waco, Texas (PRWEB) May 07, 2015
From health magazines to mainstream media, the flip-flop, a treasured summer tradition, lately has come under fire. Spenco Medical Corporation, a leader in footwear and foot care products, is speaking out in favor of the toe-freeing style, but reminds consumers that not all flip-flops are created equally.
"Of course, cheap flip-flops you buy at a drug store are not likely to offer foot support and stability, but that doesn't mean all flip-flops are bad," said Ray Anthony, FCPodS, DPodM, podiatrist and Spenco Medical Corporation consultant. "Spenco's flip-flops and slides are a great example of summer footwear with orthotic-grade arch support and a strong, stable sole."
Properly fitting footwear can improve overall body alignment, which often helps to reduce musculoskeletal pain, Anthony said.
Like all Spenco® Footwear, the Total Support® Footbed found in its flip-flops provides a high level of arch support, foot stability and comfort. Other features include:

A compression-molded Ethylene Vinyl Acetate (EVA) footbed, considered eco-friendly
Deep heel cupping
Metatarsal dome
Cushioned forefoot
Lightweight, two-part outsole
Non-slip, non-marking outsole
Ultra-Fresh® Antimicrobial for bacteria and odor control
"I've heard many myths about flip-flops, some bordering on ridiculous," Anthony said. "For one thing, whole shoes are more likely to house and retain bacteria and fungal spores than open flip-flops. Another myth is that flip-flops cause more blisters than whole shoes. After a proper break-in period to avoid strap irritation, open flip-flops are obviously far less likely to cause blisters and rub over bunion joints, because there's no shoe upper to rub against."
According to Anthony, the bottom line is that well-made, orthotic-grade flip-flops can be a healthy choice for your feet. A position, he says, he's not likely to flip-flop on any time soon.
For more, visit the Spenco website.
Spenco Medical Corporation
Spenco, a leading producer of high quality insoles and foot care products, helps people everywhere achieve its motto of Love Your Feet®. Based in Waco, Texas, Spenco provides the most advanced sports medicine and first aid products available, as well as a line of premium shoes for men and women. Founded in 1967 by renowned foot care specialist Dr. Wayman Spence, Spenco earns consumer trust in its products by focusing on superior customer service to distinguish itself in the outdoor, sports, foot care and medical markets. Spenco Total Support® Insoles carry the American Podiatric Medical Association seal of acceptance. Learn more about Spenco products by visiting spenco.com or calling 800-877-3626.
# # #