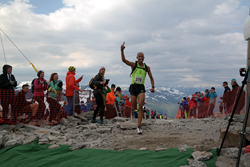 With the help of great sponsors like Spenco, 2015 was a huge success. Spenco products help me with the '3 R's': Recovery, Replenish and Repeat.
WACO, Texas (PRWEB) November 23, 2015
Elite mountain runner and Spenco-sponsored athlete, Joseph Gray, has again earned the title of Mountain Runner of the Year. USA Track & Field (USATF) will recognize Gray during its annual meeting in Anaheim, Calif, December 2-6. This is the sixth time Gray has been awarded the Mountain Runner of the Year title.
"It's been a ton of hard work and consistency along with blessings to make it possible for me to win this prestigious award throughout my career. I was excited the first time I won, and feel just as excited about my sixth," said Gray. "With the help of great sponsors like Spenco, 2015 was a huge success. Spenco products help me with the '3 R's': Recovery, Replenish and Repeat. My feet recover more quickly, which helps improve my performance out on the mountains."
The Mountain Runner of the Year award is named in honor of world-class runner Lyndon Ellefson, an ambassador of the sport of mountain running who was killed while training in 1998.
Gray is a member of Team Spenco, signing a sponsorship agreement in 2104 with the company whose name is synonymous with foot care. Since then, Gray has worn Spenco IRONMAN® Race insoles to help cushion for the jagged rocks he often faces. He also uses Spenco medical products, like the 2nd Skin® Blister Kit. When he's not racing, Gray recovers in Spenco's line of supportive, trend-setting shoes and sandals.
Gray, who lives and trains in Colorado Springs, Colo., has a long list of accomplishments including being a multiple-time North American Central American and Caribbean (NACAC) Champion, a multiple-time USA National Champion, a multiple-time USA National Team Member, the first African-American to win the USA National Mountain Running Championship, and the first athlete to win NACAC titles in Cross Country and Mountain Running.
"We're honored to sponsor an elite athlete like Joseph, and proud to know that our products have played a role in helping him achieve such incredible success," said Jeff Antonioli, Spenco's vice president of sales and marketing. "Once again, we congratulate him on this high honor."
Spenco Medical Corporation
Spenco, a leading producer of high quality insoles and foot care products, helps people everywhere achieve its motto of Love Your FeetTM. Based in Waco, Texas, Spenco provides the most advanced sports medicine and first aid products available, as well as a line of premium shoes for men and women. Founded in 1967 by renowned foot care specialist Dr. Wayman Spence, Spenco earns consumer trust in its products by focusing on superior customer service to distinguish itself in the outdoor, sports, foot care and medical markets. Spenco Total SupportTM Insoles carry the American Podiatric Medical Association seal of acceptance. Learn more about Spenco products by visiting spenco.com or calling 800-877-3626.