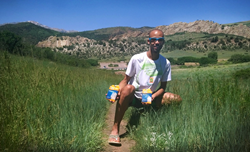 I search for the highest quality products to support my running career, and Spenco is the best in orthotic support and medical foot care.
Waco, Texas (PRWEB) June 30, 2014
Running up Pike's Peak, a 14,115-foot mountain in Colorado, is all in a day's work for elite mountain runner Joseph Gray.
"A lot of people who run up take the gondola back down, but I like to just run down," Gray says of the nearly 13 mile descent.
Gray says running down the mountain used to lead to excruciating blisters. But this last time, he had a new defense in his arsenal: The Spenco 2nd Skin® Blister Kit.
"If you'd have taken a picture of my feet after that run, you'd have thought I just had a pedicure," Gray jokes. "The kit left me completely blister-free. Blisters may sound like a minor thing, but they can sideline athletes from their training."
Gray is the newest member of Team Spenco, recently signing a sponsorship agreement with the company whose name is synonymous with foot care.
"I've used some of Spenco's products for years, so I really wanted the company as a sponsor," Gray said. "I search for the highest quality products to support my running career, and Spenco is the best in orthotic support and medical foot care."
Gray's professional accomplishments include:

Six-time North American Central American and Caribbean (NACAC) Champion
Eight-time USA National Champion
15-Time USA National Team Member
Four-time "Mountain Runner of the Year," USA Track & Field (USATF)
First African-American to win the USA National Mountain Running Championship
First athlete to win NACAC titles in Cross Country and Mountain Running
"Joseph's dedication and discipline to mountain running makes him one of the best in the world," said Bill Reifsnyder, two-time U.S. National Marathon Champion and Spenco marketing consultant. "But Joseph looks for a competitive edge that will allow him to train harder, recover faster and race better. Spenco's innovative products provide that advantage."
Gray, who lives and trains in Colorado Springs, Colo., recently began using the company's IRONMAN® Race insoles for enhanced arch support. When he's not racing, you'll often find him recovering in Spenco's line of supportive, fashionable shoes and sandals.
"Spenco insoles protect my body and preserve my energy and health while running," Gray said. "And Spenco's orthotic shoes teach my body proper mechanics when I'm recovering."
Most recently, Gray dominated the 7.6-mile Northeast Delta Dental Mount Washington Road Race, all uphill to the highest peak in the Northeast, located in New Hampshire.
On July 6, Gray will defend his title in the USATF Mountain Running Championship. The race takes place on Loon Mountain in New Hampshire, a race Runner's World named "Most Competitive Hill Climb." The top six men and four women win a spot on the U.S. Mountain Running Team that will travel to the world championships in Italy this summer.
Wherever his travels take him, and to whatever heights, Gray says Spenco products will help him achieve his athletic feats.
"My advice to other athletes is take care of your feet," Gray said. "They take the brunt of the impact. If you take care of your feet, usually your body will fall in line."
Spenco Medical Corporation
Spenco, a leading producer of high quality insoles and foot care products, helps people everywhere achieve its motto of Love Your FeetTM. Based in Waco, Texas, Spenco provides the most advanced sports medicine and first aid products available, as well as a line of premium shoes for men and women. Founded in 1967 by renowned foot care specialist Dr. Wayman Spence, Spenco earns consumer trust in its products by focusing on superior customer service to distinguish itself in the outdoor, sports, foot care and medical markets. Spenco Total SupportTM Insoles carry the American Podiatric Medical Association seal of acceptance. Learn more about Spenco products by visiting spenco.com or calling 800-877-3626.