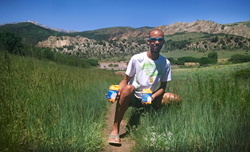 During the race, I wore my Spenco IRONMAN® Race insoles to help cushion for the jagged rocks.
Waco, Texas (PRWEB) July 08, 2014
Elite mountain runner Joseph Gray successfully defended his USA Track & Field Mountain Running Championship on July 6, a victory for which Spenco heartily congratulated him.
The race took place on Loon Mountain in New Hampshire, a race Runner's World named "Most Competitive Hill Climb." The win means Gray has again secured a spot on the U.S. Mountain Running Team that will travel to the world championships in Italy this summer.
"During the race, I wore my Spenco IRONMAN® Race insoles to help cushion for the jagged rocks," Gray said. "Coming back to repeat as the National Champion was huge, but being able to win the Up/Down Championship last year and repeat this year on the Uphill-only format was even more important to me. There are not many athletes who have won the title on both formats."
Gray, who lives and trains in Colorado Springs, Colo., also uses the Spenco 2nd Skin® Blister Kit. When he's not racing, you'll often find him recovering in Spenco's line of supportive, fashionable shoes and sandals.
Gray is the newest member of Team Spenco, recently signing a sponsorship agreement with the company whose name is synonymous with foot care.
Gray's professional accomplishments include:

Nine-time USA National Champion
16-Time USA National Team Member
Four-time "Mountain Runner of the Year," USA Track & Field (USATF)
Six-time North American Central American and Caribbean (NACAC) Champion
First African-American to win the USA National Mountain Running Championship
First athlete to win NACAC titles in Cross Country and Mountain Running
Wherever his travels take him, and to whatever heights, Gray says Spenco products will help him achieve his athletic feats.
"My advice to other athletes is take care of your feet," Gray said. "They take the brunt of the impact. If you take care of your feet, usually your body will fall in line."
Spenco Medical Corporation
Spenco, a leading producer of high quality insoles and foot care products, helps people everywhere achieve its motto of Love Your FeetTM. Based in Waco, Texas, Spenco provides the most advanced sports medicine and first aid products available, as well as a line of premium shoes for men and women. Founded in 1967 by renowned foot care specialist Dr. Wayman Spence, Spenco earns consumer trust in its products by focusing on superior customer service to distinguish itself in the outdoor, sports, foot care and medical markets. Spenco Total SupportTM Insoles carry the American Podiatric Medical Association seal of acceptance. Learn more about Spenco products by visiting spenco.com or calling 800-877-3626.