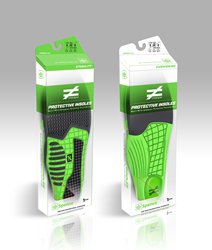 Spenco's new line of Unequal insoles will more safely distribute the vibration, impact and hot spots away from a particular point of impact on the foot.
WACO, Texas (PRWEB) August 13, 2015
From the soccer mom to the professional football player, a renewed fervor for preventing sports injuries has taken hold. That's one reason Spenco Medical Corporation has inked a deal with Unequal Technologies Co. to create a new line of insoles for athletes wanting to reduce the risk of foot and leg impact stress injuries.
Unequal® patented vibration-absorbing technology is used in a variety of other products, such as protective head and body gear. The company's protective sports gear for the head and body has been worn by athletes in virtually all of the world's largest sporting events in football, baseball, hockey, soccer, the Sochi 2014 Olympic Games and the Winter X-Games. The patented composite uses a "para-aramid" that is found in things like bullet-resistant vests and fire-resistant apparel. Aramid fibers are high strength, resistant to abrasion and have outstanding fabric integrity at high temperatures.
"Rather than just absorbing the shock that an athlete might experience charging up and down a field, for example, Spenco's new line of Unequal insoles will more safely distribute the vibration, impact and hot spots away from a particular point of impact on the foot," said Jeff Antonioli, Spenco's vice president of sales and marketing. "We believe athletes from the young adult to the professional will benefit from this new product by experiencing lower injury rates and increased performance."
During the 2015 Women's World Cup, in which the U.S. strolled to gold, key players wore headbands made of Unequal technology. Early in the testing of Unequal insoles, Southern Methodist University in Dallas performed a blinded athlete study using approximately 60 soccer players. At the season's end, team physician data showed the athletes who wore the Unequal insoles had virtually no stress-related injuries as compared to the athletes who did not.
"Spenco has built a stellar reputation for cutting-edge, foot care solutions. Incorporating Unequal's protective technology in a new line of insoles is a perfect application for what we do," said Rob Vito, CEO of Unequal. "Whether during a long run, a vigorous workout or big game, athletes will feel the difference with every step or heel strike."
The co-branded insoles will be available in two types: one for cushioning that will provide ultra-thin comfort, and one for stability that will have a lightweight orthotic cradle. Both will feature Full Contact ComfortTM supported with The Shape That Feels Great®, along with the protection and shock attenuation of Unequal.
"We are thrilled to work with Spenco Medical because of their commitment to bring their customers the best insoles for injury prevention and overall foot protection," said Craig Franklin, vice president, of licensing for Unequal. "Our technology has versatility that spans a variety of industries and applications, and these insoles are a perfect example."
Antonioli said the Unequal insoles will be available this fall on the Spenco website and in retail sporting goods stores. They will retail for $39.99.
Spenco Medical Corporation
Spenco, a leading producer of high quality insoles and foot care products, helps people everywhere achieve its motto of Love Your FeetTM. Based in Waco, Texas, Spenco provides the most advanced sports medicine and first aid products available, as well as a line of premium shoes for men and women. Founded in 1967 by renowned foot care specialist Dr. Wayman Spence, Spenco earns consumer trust in its products by focusing on superior customer service to distinguish itself in the outdoor, sports, foot care and medical markets. Learn more about Spenco products by visiting spenco.com or calling 1-800-877-3626.
Unequal Technologies
Unequal's mission is to protect people in sports, work and life and the military. It's patented fusion of a military-grade composite fortified with Accelleron®, Airilon® and coated aramid fabric engineered for the ultimate in protection. Olympians, and professionals in the NFL, MLB, NHL and X Games, as well as thousands of collegiate and youth athletes in football, baseball, soccer, hockey, lacrosse, action sports, contact sports and other activities, wear Unequal's protective head and body gear. Unequal's technology is protected by over 85 worldwide patents and patents pending and its products have been tested by independent, accredited laboratories, OEM facilities and top universities. Recently invited to attend the White House Concussion Summit, Unequal is recognized as a Forbes' 100 Most Promising Companies, ESPN's Top 15 Best Sports Innovations, the No. 1 tech innovation of 2013 by Esquire.com and winner of the DuPont™ Kevlar® Innovation Award. For more information, visit unequal.com.
# # #
Contact:
Jenna Higgins Rose
573-234-8935
jenna(AT)tsncommunications.com