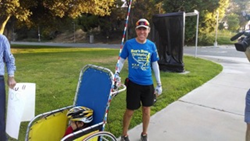 We are inspired by Roy's big heart and tenacious efforts to support worthy causes. We're proud to sponsor him and have him as a member of Team Spenco.
WACO, Texas (PRWEB) June 11, 2015
Running will not solve most problems. You can't outrun cancer. You can't run away from the struggle for clean water in third world countries. Yet one California man's running brings hope for someday solving such issues.
Roy Wiegand, an ultra-marathoner, runs extreme distances to raise awareness and money for charities like the Michael Hoefflin Foundation and Lifewater International. To support his efforts, Spenco recently became a sponsor for Wiegand.
"I love to run, but these challenges are really a vehicle for something much bigger, much greater than a run," Wiegand said. "I do it for great causes. The run is just something that brings people together and keeps them interested."
On July 4, he plans to finish a 100-mile run in 24 hours from Orange County to Burbank, California, to raise $25,000 for families with children who have cancer. The day before, he will meet with kids battling cancer at Children's Hospital in Orange County, where a pep rally will kick off the run. He runs for the Michael Hoefflin Foundation in honor of Christopher Wilke, a friend of his son's, who died at age 12 after battling a rare form of cancer.
"We are inspired by Roy's big heart and tenacious efforts to support worthy causes," said Jeff Antonioli, Spenco's vice president of sales and marketing. "We're proud to sponsor him and have him as a member of Team Spenco."
Wiegand has competed in 10 marathons, including the Boston Marathon in 2008 and one ultra-marathon of 60 miles. In 2011, he completed his first 100-mile run for LifeWater International after learning about the organization at his church. Rather than just building wells, which despite good intentions often end up broken and useless, the group teaches third world communities how to build and maintain their own wells.
"Here, we just turn on the tap and take clean water for granted. But there are a lot of people in the world who don't have that, and I became passionate about helping," Wiegand said. "I had the idea to do this ultra-run, and the more crazy people said it sounded, the more I thought it sounded like fun!"
Wiegand, who has raised more than $30,000 for the charities through his running and cycling challenges, plans to repeat that run again next fall.
The Burbank resident said he averages between 35 and 60 miles a week running and another 50 to 75 on a bicycle – a feat Spenco products help him achieve.
"I've used Spenco insoles since day one on these runs," Wiegand said. "Buy the best shoes you can, whatever they may be. Then, put in Spenco insoles and it's like putting a turbo engine into a Porsche. I also have some Spenco shoes, and they are amazing because of the total support after you run. It's nice to have that support when you're not running, too."
You can support Roy's Run for Christopher at http://www.mhf.org/ or on Facebook.
Spenco Medical Corporation
Spenco, a leading producer of high quality insoles and foot care products, helps people everywhere achieve its motto of Love Your FeetTM. Based in Waco, Texas, Spenco provides the most advanced sports medicine and first aid products available, as well as a line of premium shoes for men and women. Founded in 1967 by renowned foot care specialist Dr. Wayman Spence, Spenco earns consumer trust in its products by focusing on superior customer service to distinguish itself in the outdoor, sports, foot care and medical markets. Spenco Total SupportTM Insoles carry the American Podiatric Medical Association seal of acceptance. Learn more about Spenco products by visiting spenco.com or calling 800-877-3626.