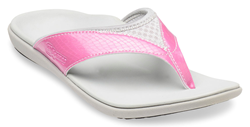 An athlete is an athlete 24 hours a day. Even when you're not running it's important to have proper foot support, which helps you recover faster.
Waco, Texas (PRWEB) March 11, 2014
Run. Recover. Repeat. It's an age-old formula that leads many athletes to success, but new thinking among exercise experts recognizes that the recovery phase is crucial for peak performance and injury prevention.
As with training and racing, Spenco aims to help athletes take care of their feet during the hours of recovery – and look good doing it. The company, known primarily for its advanced insoles, has introduced a fashionable new line of ultra supportive shoes, The Shape That Feels Great™, just in time for spring.
"Many athletes wear orthotics in their running shoes during training, then slip their feet into flat flip flops," said Jeff Antonioli, Spenco's vice president of sales and marketing. "That's one of the worst things you can do. An athlete is an athlete 24 hours a day. Even when you're not running it's important to have proper foot support, which helps you recover faster."
Antonioli said most shoe manufacturers build the shoe first and then insert a flat insole. Spenco® Footwear with Total Support® technology builds the shoe around an orthotic insole. Spenco's line of shoes, sandals and flip-flops, first introduced in 2012, features footbed contour – a biomechanically accurate shape that promotes foot alignment and offers motion control and cushioning.
"Good arch support is important because it disperses weight across a broader surface of the foot, reducing stress," Antonioli said.
The new spring line comes in a broad range of styles for men and women, including unique colored canvas and leather. The women's line also features patterned leathers, metal detailing, floral and animal-inspired designs, as well as this year's trendy colors. Many styles have adjustability for an ideal fit.
Elite athlete and Spenco Ambassador Melissa Mast, who has completed 21 marathons despite undergoing foot surgery after an injury, was immediately sold on the new shoes.
"These days I slip out of my running shoes, which have Spenco insoles, and my feet go right into my Spenco shoes," said Mast, whose personal record is 3:01, Marathon Rotterdam, 2006. "They feel great, and I feel better knowing I am taking care of my feet at all hours. Who knew orthotic footwear could also be so cute? It's about time!"
Spenco is marketing the shoe line not only to elite athletes, but also to the "weekend warrior," who often has more biomechanical issues than elite athletes. General consumers are targets, too.
"Everyone who's on their feet can benefit from solid foot support," Antonioli said.
The shoes retail for $49.99 - $99.99 and are available at running stores and on the Spenco website.
Spenco Medical Corporation
Spenco, a leading producer of high quality insoles and foot care products, helps people everywhere achieve its motto of Love Your FeetTM. Based in Waco, Texas, Spenco provides the most advanced sports medicine and first aid products available, as well as a line of premium shoes for men and women. Founded in 1967 by renowned foot care specialist Dr. Wayman Spence, Spenco earns consumer trust in its products by focusing on superior customer service to distinguish itself in the outdoor, sports, foot care and medical markets. Learn more about Spenco products by visiting spenco.com or calling 1-800-877-3626.
# # #