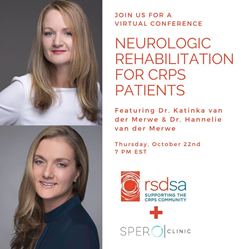 FAYETTEVILLE, Ark. (PRWEB) October 15, 2020
The Spero Clinic, operated by Dr. Katinka van der Merwe, is joining a virtual seminar at the Treating the Whole Person: Optimizing Wellness Conference on Thursday, October 22, 2020. The conference, which is free, starts at 7pm EST. Dr. Katinka and Dr. Hannelie van der Merwe are excited to share their common findings and novel approach with the CRPS community.
People from all walks of life who suffer from CRPS can register for the conference, which is hosted by the Reflex Sympathetic Dystrophy Syndrome Association (RSDSA), an organization with the goal of helping chronic pain sufferers become pain-free by using holistic techniques. The conference begins on October 19th and runs through the 22nd.
The Spero Clinic specializes in using holistic, non-invasive procedures in order to help people with CRPS (standard or type one), Ehlers-Danlos Syndrome, and other chronic pain and neurologic disorders. Some of the many procedures that they perform include nerve adjustments, magnetic resonance treatments, oxygen therapy, scar tissue therapy, and ionic purification. The clinic employs a number of specialists who have one goal in mind – to help their patients live a pain-free life without having to resort to invasive procedures, prescription medications, or traditional pain management methods.
CRPS causes chronic pain that people suffer from and have to deal with on a daily basis. The syndrome is caused by damage to the central or peripheral nervous system. Malfunctions of the nervous system can cause CRPS as well. The nervous system runs from the brain throughout the entire body, where it is responsible for sending and interpreting the brain's signals.
Dr. Katinka, the daughter of a chiropractor, grew up in South Africa. She later attended the Parker College of Chiropractic in Dallas, Texas before opening the Spero Clinic with the goal of not only following in her father's footsteps but also helping people address their pain levels. She has written two books on the subject, Taming the Beast: A Guide to Conquering Fibromyalgia and Putting Out the Fire: New Hope for RSD/CRPS.
Her sister, Dr. Hannelie is also a chiropractor, and she has studied functional neurology and understands that many blood conditions, like urinary tract infections and the Epstein Barr Virus tend to make it tough for patients to recover from the conditions that cause their chronic pain. She runs the Spero Clinic's laboratory where she spends her days examining patient's bloodwork in order to detect any abnormalities.
Both will be speaking during their conference session on October 22nd. The Treating the Whole Person: Optimizing Wellness Conference also includes several virtual networking and expo hall sessions, as well as presentations on topics like Should Physical Therapy Hurt and A Holistic Approach to CRPS.
For more information or to register for the conference, please see the event website at https://hopin.to/events/rsdsa2020b or visit the Spero Clinic Facebook page.
More About Spero Clinic
At the Spero Clinic, Dr. Katinka van der Merwe and her team use a Neurologic Recovery Program to help patients who are suffering from severe chronic pain like RSD/CRPS. They focus on Neurologic Rehabilitation and restoring balance to the Autonomic Nervous System. Dr. Katinka's world leading 12 Week Neurologic Rehabilitation program helps treat hopeless cases worldwide.
For more information, please visit https://www.thesperoclinic.com or call (479) 304-8202.