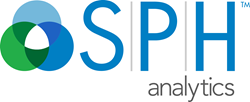 [T]hrough the addition of these thought leading and experienced senior managers to our leadership team, we will be able to accelerate how SPHA develops, brings to market and implements the innovative solutions we provide our clients. --Al Vega, CEO
Alpharetta, Georgia (PRWEB) October 13, 2015
SPH Analytics today announced the following additions to their leadership team: Debbie Vereb has been named the organization's Executive Vice President of Operations, and three Senior Vice Presidents, Robert Davis, David Palmer, and Tony Gerena, have been hired to key leadership roles in the company.
Debbie Vereb's appointment to Executive Vice President of Operations at SPH Analytics, with responsibility for managing operations for the Perform and Orchestrate solution sets. comes after her tenure as Executive Vice President and Chief Operating Officer at The Myers Group. SPH Analytics (SPHA) acquired The Myers Group in May. "SPH Analytics has worked to bring together the visions of The Myers Group and Symphony Performance Health. With our portfolios aligned, we have more opportunity to positively impact population health and patient and member satisfaction," Vereb said. "I am excited to oversee the next steps to make the visions one reality with our patient and member satisfaction solutions and population health analytics."
Robert Davis joins SPHA as the Senior Vice President of Product Management & Marketing after a 20 year career at NextGen Healthcare. Davis was one of the founders of MicroMed–the first windows-based practice management system, sold to QSI to form NextGen (NG). He used his expertise in team building, product management, and process optimization to develop his roles though Consulting Services into Research and Development at NG. "I am excited about bringing my 20 plus years of Healthcare IT experience to SPHA. With our software portfolio and the teams' vision, we have a unique opportunity to lead the way for our customers to value-based medicine," said Davis.
David Palmer joins the team as the Senior Vice President of Clinical Implementations and Client Services at SPHA. Palmer led a variety of healthcare informatics projects for companies including MagMutual, University of North Carolina, Charlotte, ParaHealth, MedAssets, and Premier Healthcare.
Palmer said, "It is a very exciting time to be involved in implementations at SPHA. Our Population Health solutions will help clients meet new federal mandates while improving quality of life for patients. Additionally, we are responding to our member and patient satisfaction clients' request by adding the SPHA elite user experience to traditional survey products. I am eager to be involved in the implementation of these products."
Tony Gerena comes to SPHA as the new Senior Vice President of Product Development. Gerena brings more than 17 years of Software Engineering experience in healthcare and financial industries to his new role as Senior Vice President of Product Development. Mr. Gerena worked with Greenway Medical Technologies from its early years through the company's IPO, leading teams in development, architecture, and project management. Commenting on his new role, Mr. Gerena said, "I am happy to have the opportunity to guide state-of-the art projects from conception to completion to meet the needs of clinicians and health systems."
Al Vega, SPH Analytics CEO, said, "We have done a great deal of research to determine how SPHA can deploy our advanced action analytics to help providers and health plans meet the evolving needs of the healthcare markets they serve. I am confident that through the addition of these thought leading and experienced senior managers to our leadership team, we will be able to accelerate how SPHA develops, brings to market and implements the innovative solutions we provide our clients. Our goal is provide innovative solutions that drive valuable insights and improved patient/member outcomes coupled with great talent."
# # #
About SPH Analytics
SPH Analytics (SPHA) is a leader in action analytics, providing best-in-class solutions and transformative technologies for provider, payer, and health networks. By providing powerful applications, analytics, healthcare surveys, call center services, and consulting, SPHA solutions lead the way for the next generation of healthcare. SPHA enables clients to increase member and patient satisfaction, improve population health, drive patient engagement, and reduce overall cost of care. SPHA solutions incorporate an engaging social-media style user experience, optimized for mobility and communication, to measure data, create easy-to-understand analytics, and empower action.
Founded through the merger of Voyance, MDdatacor, Archimedes Clinical Analytics, and The Myers Group, SPH Analytics is based in Alpharetta, GA, with offices in Branford, CT, San Francisco, CA, Nashville, TN, and Duluth, GA. SPH Analytics is a member of the $3 billion Symphony Technology Group. For more information, call 1-866-460-5681 or visit http://www.SPHAnalytics.com.