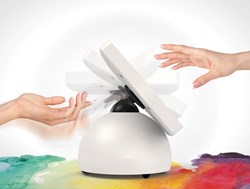 Sphere is our new secure point-of-purchase tablet display system designed specifically for retail environments.
Waterloo, Ontario (PRWEB) January 10, 2014
Armodilo's exciting new tablet stand will be featured in two booths at the NRF show next week in New York City. Sphere is a fun and inviting way to spice up point-of-sale.
Sphere by Armodilo will be featured in the Direct Source booth (booth #1519) and with Beehivr in Epson's booth (booth #3021). NRF is labeled "Retails' BIG Show" and the four-day event offers unparalleled education, collegial networking, and an enormous EXPO Hall full of retail technologies and solutions.
As a technology solutions provider, Direct Source's hardware procurement and software development solutions are targeted for tier one retailers' physical stores, distribution centers and warehouses.
Beehivr offers turn-key applications which can be managed from a distance and allow you to modernize your image and interact with customers. The Beehivr platform is iPad compatible and will support your custom application, which can serve as a brand ambassador, a sales support tool or a lead generator.
"We're beyond excited to have this opportunity to partner with Direct Source and Beehivr to showcase Sphere, which will be available in February 2014, to the attendees of NRF," says Iles Guran, Founder and President of Armodilo.
"Sphere is our new secure point-of-purchase tablet stand designed specifically for retail environments," Guran explains. "It offers both a quirky, fun design and a practical and secure way to use a wide variety of tablets (Apple®, Android® and Windows® based) for point-of-purchase, digital signage and various other in-store digital deployment solutions," adds Guran.
Come visit Direct Source (Booth #1519) & Beehivr (in Booth #3021) to see Sphere at NRF -- we look forward to seeing you at the show!
Additional information on Armodilo products, including: Sphere™, AURA™ and our award-winning multi-tablet compatible stands, Armodilo(ex) and Armodilo(rt) can be found at http://www.armodilo.com.