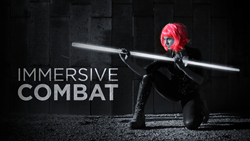 When creating "Immersive Combat", we wanted to push the boundaries of cinematic VR – to show the true power of the medium. But we had to fight the limitations of VR by introducing fully stabilized camera - and it's a game-changer for the user-experience.
San Francisco, California (PRWEB) August 03, 2016
"Immersive Combat" is a project of truly epic scale and unrivaled complexity – the series take viewers into the heart of the battle as Kung Fu, Muay Thai and Medieval Combat world champions fight it out in worlds of Vikings and pirates, steampunk and cyberpunk. Spherica production team is set to release more than a dozen live-action VR films from the series in 2016.
VR trailer for upcoming series is published in Spherica's VR app, which is available to download for Samsung Gear VR users, as well as on Samsung VR platform. The first action film from the series will premiere at the world's largest VR expo VRLA in Los Angeles this week before being released exclusively in the "Immersive Combat" app later in August.
"When creating "Immersive Combat", we wanted to push the boundaries of cinematic VR – to show the true power of the medium. Our goal was to give the audience the kind of experience simply not possible in the 'physical' world – such as flying over pirate ships, being locked in mediaeval sword fights or being pulled underwater during Viking battle – and immerse them in these fantasy worlds to a degree impossible with any other technology," said Spherica founder Nick Malukhin. "In order to produce this fully immersive VR experience we had to fight the limitations of today's cinematic VR. So, we developed a line of proprietary hardware that enabled us to move the camera throughout VR production just as we would in traditional filmmaking. It's a game-changer for the user experience."
Spherica VR Production introduced revolutionary stabilization technology that brings smooth camera movement into VR filmmaking. The never-before-seen, 360-degree stabilized footage comes from a moving camera – mounted on a drone or a rover – and immerses the viewer to a degree impossible with the industry-standard static mount. Spherica's one of a kind, proprietary stabilization hardware allows for a natural user experience. As a result, it enables the VR filmmaking industry to bring cinematic VR storytelling to the next level of audience engagement. "Immersive Combat" series demonstrates the full spectrum of capabilities of Spherica's innovation.
Spherica's unique 360 filming technology has been tried and tested in multiple VR projects, produced in collaboration with industry leaders, including the Associated Press and HuffPost RYOT. VR film "Artist of Skid Row", produced by RYOT and Spherica, premiered at Tribeca Film Festival 2016. You can read more about Spherica's revolutionary stabilization hardware in Road to VR.
About Spherica:
Spherica is an independent VR production studio based in San Francisco. Founded by a small team of VR enthusiasts, Spherica aims to create truly engaging cinematic VR experiences for viewers worldwide. Spherica's proprietary technology demonstrates to industry professionals the potential of virtual reality filmmaking when it is unrestricted by the limitations of static camera.