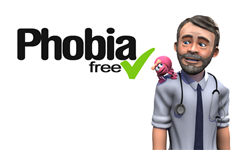 You don't have to be going in to the jungle to be terrified – something as simple as taking a bath with a spider in the room can be equally petrifying for arachnophobics. Our spider phobia app can remove that fear in a very short time
London, UK (PRWEB UK) 22 November 2013
Known for its creepy crawlies and brutal challenges, the popular television show forces stars to abandon their lives of luxury and face their deepest fears.
During the very first episode, the celebrities found themselves sharing glass boxes with all manner of unpleasant creatures, from snakes to scorpions. While some took bravely to the challenge of completing a jigsaw whilst covered in cockroaches, others were visibly struggling. TV presenter Matthew Wright even burst into tears, demonstrating the debilitating effects of a fear which affects nearly 60% of the UK's population to some degree.
Arachnophobia, or the fear of spiders, is a condition which many of the stars of 'I'm a Celebrity' have had in common over the years. Yet, despite knowing that they are bound to encounter spiders on the show, few celebrities take steps to rid themselves of their fear of spiders before entering the jungle.
"What few people know about phobias is that though only a very small fraction of sufferers actually seek help, the vast majority are curable," says psychiatrist and co-founder of Virtually Free Dr Andres Fonseca. "Learning to manage stress is the first step to recovery, so teaching yourself to meditate, self-hypnotise, or just breathe calmly can make a real difference to how you deal with scary situations."
"The next stage is exposure therapy," says Dr Fonseca, "in the case of arachnophobia, the method deals with the spider phobia by helping the sufferer move gradually closer to a spider, until they are able to touch it without fear."
Until now, accessing this kind of therapy has often been difficult and expensive. However, a hybrid team of game developers and eminent psychiatrists (including Dr Fonseca) has recently launched the latest app designed to help sufferers conquer their phobias without even leaving the house. The new spider phobia app combines a series proven psychotherapy tools with augmented technology to cure phobias for good.
"You don't have to be going in to the jungle to be terrified – something as simple as taking a bath with a spider in the room can be equally petrifying for arachnophobics. Our spider phobia app can remove that fear in a very short time," says Dr Fonseca. "You'll start by playing games with cartoon spiders, and gradually getting used to a spider's shape and movements before moving through to more detailed levels. Using the spider phobia app could certainly help arachnophobic celebrities to deal with those famous bushtucker trials."
"Many people suffering from phobias believe that their condition is incurable, and think of facing their fears as an impossible task. Few are aware that just a handful of sessions with a clever application like this could leave them ready for anything even the Australian outback could throw at them."
Phobia Free is available to download now from the App Store priced at £2.49
EDITOR'S NOTES:
Exposure Therapy: How it Works
Exposure therapy, or systematic desensitisation, is a tried and tested method which has successfully been used to help people with phobias for decades.
The method deals with fear by helping the sufferer to gradually move closer to a spider, until they are able to touch it without fear. Phobia Free begins this process with cute, cartoon Itsy - a critter who the developers believe won't scare the even the most phobic arachnophobes.
As the game progresses, Itsy is replaced by increasingly realistic spiders, until, by the final level of the Phobia Free app, users will be able to see a fully grown tarantula crawl on to their hands, using the augmented reality feature. For a full-blown phobic, this eventuality sounds impossible, but this technique has successfully been used in therapy for many, many years.
The Phobia Free app combines exposure therapy with the stress-reducing exercises which were championed in Virtually Free's other app, Stress Free. Learning to manage stress and anxiety is often the first and most important stage of phobia therapy, so Phobia Free calms its users by teaching them breathing techniques, deep muscle relaxation, meditation, and even self-hypnosis before they begin the course.
About Virtually Free:
Virtually Free has a single mission: to improve the world's emotional health by using cutting-edge technology combined with proven psychotherapy to make therapy more appealing, accessible and affordable.
Led by experienced psychiatrists Dr Andres Fonseca and Dr Russell Green, and veteran game developer Richard Flower, Virtually Free combines psychological expertise with technological skill to create colourful, intelligent, and imaginative apps. As Dr Green is also terrified of spiders, every Virtually Free creation benefits from a first-hand understanding of intense stress and fear, which ensures their strength in both theoretical and practical terms.
The team at Virtually Free likes to think of Stress Free and Phobia Free as 'springboard projects'. Their ultimate goal is to develop a whole range of games which offers affordable, effective, and accessible treatments to all who need them. As an added benefit, while these games will enable help to reach patients on an unprecedented scale, feedback from app users will in turn help the developers to improve their treatments and make them even more effective for users across the world.