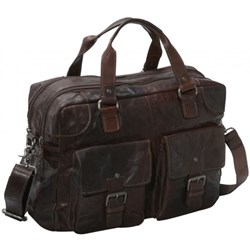 Made from vegetable tanned buffalo leather that grows in character and beauty as it ages, this vintage-styled collection is getting high praise from aficionados.
Los Angeles, CA (PRWEB) January 30, 2014
Go-getting e-store GotBriefCases.com, a rapidly growing destination for discerning luggage and briefcase shoppers, is proud to announce the launch of the stylish Jack Georges Spikes & Sparrow collection.
Made from vegetable tanned buffalo leather that grows in character and beauty as it ages, this vintage-styled collection is getting high praise from aficionados. The leather is resilient and builds a rich patina with use. It is full-grain and not corrected—the untouched grain allows the fiber to keep its full strength and durability.
Since Jack Georges founded his company in 1987 it has been recognized as the standard among better retailers in the business case industry and quality conscious consumers. Every phase of product design, development and manufacturing is influenced by the knowledge and experience of three generations of leather craftsmen.
Especially popular right now is the Jack Georges Spikes & Sparrow double gusset top-zip briefcase which is handcrafted from strong and durable buffalo leather that has a washed effect. Available in brown this 14.4 x 1.5 x 4 briefcase has both zippered pockets and two front pockets with magnetic flap closure as well as a piggy-back (trolley) strap. The leather is bound to look even more beautiful over the years.
GotBriefCases.com founder and CEO, Vahram Tovmasyan, said, "Whether you need a soft-structured leather briefcase, messenger bag, cross body bag, handbag, wallet or accessory, the designs of the Spikes and Sparrow collection are timeless. It's a brand that offers a great balance of innovative design, durability and classic styling and we are thrilled to be able to now offer it to our customers."
Tovmaysan launched GotBriefCases.com in 2009 at a time when he had no prior experience in ecommerce and didn't even speak English. A friend gave him the idea and helped create the website. Tovmaysan rolled up his sleeves, learned English and began contacting manufacturers.
Today, the online retailer carries more than 50 brands and over 5,000 products in a multitude of different colors. Brands include household names such as I Medici, Samsonite, Hartmann Luggage, Zero Halliburton's business collections, TravelPro Luggage, and Kenneth Cole bags.
GotBriefCases.com appeals to a wide audience including professionals such as attorneys, CPAs, businessmen and women, and teachers, as well as travelers and students.
Tovmasyan said, "We are proud of the fact that we deliver premier customer service and very fast shipping times not only for the Jack Georges line but for also all of our briefcases for men and women, messenger bags for men and women, and many other accessories. We are the top-rated seller on eBay with almost 2,300 positive reviews and 98 percent positive feedback on Amazon. We deliver the same impeccable service to my gotbriefcases.com customers and at very affordable prices."
To find out more about the Jack Georges briefcases for men line and the entire Spikes & Sparrows collection as well as Got BriefCases' wide selection of other products including leather briefcases, men's canvas briefcases, laptop cases, computer bags, messenger bags and backpacks, visit their website at http://www.gotbriefcases.com.