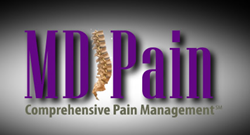 Spinal cord stimulator implants have been amazing for pain relief of neuropathy, failed back syndrome, RSD and more difficult conditions!
Denver, Colorado (PRWEB) February 17, 2016
The top Denver pain management clinic, MD Pain, is now offering revolutionary spinal cord stimulator implants for pain relief. The procedure is amazing at helping those with chronic conditions that are not amenable to additional surgery. Call (720) 306-9575 for more information and scheduling with pain management Denver CO trusts.
A spinal cord stimulator implant, also known as neuromodulation, has been very effective for patients with failed back surgery syndrome, peripheral or diabetic neuropathy, RSD and additional conditions. The procedure has been great for back and leg pain, and has been shown to also have potential to restore sensation that has been lost due to neuropathy.
The Board Certified pain management doctors in Denver offer the procedure as an outpatient. Most insurance companies cover the procedure. Over three fourths of patients achieve relief, and it can signfiicantly change one's life. Patients are often able to get back to work and participate in activities of daily living along with recreational activities.
Not only is Metro Denver Pain Management offering spinal cord stimulator implants, but also radiofrequency ablation for long term back and neck pain relief. The RF procedures may provide up to two years of consistent relief. Both the implants and RF procedures are able to dramatically reduce the need for pain medications.
Most insurance is accepted at MD Pain, and patients are seen from a broad area throughout the metro area. Call (720) 306-9575 for more information and scheduling.