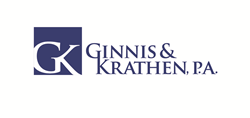 Clients who have spinal injuries due to slip and fall or other accidents often need multiple surgeries and experience pain and difficulties that will affect them for the rest of their lives.
Boca Raton, Florida (PRWEB) September 26, 2014
All too often, the attorneys at Ft. Lauderdale-based personal injury law firm Ginnis & Krathen, P.A. see cases where slip and falls, product liability, premises liability and traffic accidents lead to neck and spinal injuries. Unfortunately, this almost always leads to serious damage because the neck and spine are connected to the central nervous system. "Clients who have spinal injuries due to slip and fall or other accidents often need multiple surgeries and experience ongoing pain and difficulties," explains Eric Ginnis, founding partner of Ginnis & Krathen. "September is National Spinal Cord Injury Awareness Month, so this is the perfect time to educate the public on why experience is necessary for handling these types of personal injury cases since it's outcome can affect clients and their families for the rest of their lives."
Eric has ample experience in personal injury law as well as an in-depth understanding of the medical issues involved in spinal injury cases. His pre-med studies as an undergrad focused on neurophysiology, or the functioning of the nervous system. As a result, Ginnis & Krathen has an advantage when it comes to the complexities of these particular cases involving a variety of injuries that require ongoing medical care. They have had a great deal of success litigating for clients, reaching settlement amounts that have helped pay for the medical expenses and allowed clients the breathing room to adjust to a new way of life.
The law firm has recovered personal injury settlements for clients that include product liability claims, slip and falls, and traffic accidents – all of which had resulted in spinal injuries in addition to other various problems requiring surgery and resulting in missed work and chronic pain. Back surgery is a major operation requiring months of healing and rehabilitation. Many clients need multiple surgeries and have multiple injuries from the accident that prompted them to seek out legal retribution.
Examples of Product Liability, Slip and Falls and Traffic Accidents that Resulted in Spinal Injuries
One example of a product liability claim resulted from a faulty medical treatment chair that caused the client to tumble head over heels out of the chair. The resulting injuries required multiple complex back surgeries, including a three-level fusion. This particular case involved the spa in which it occurred and two separate manufacturers.
Slip and fall accidents are very common as they can happen to anyone at any time. One such case involved a young man who was employed at a company that had the floors cleaned by a third party. The cleaning crew used an over-soaped mop solution and left the floor wet. This young man fell and sustained injuries that required a two-level spinal surgery and one in his lower back to fuse the bones together.
We all know how dangerous the roads can be for Florida's bicyclists. In one example of a bicycle accident in South Florida, a bicyclist was in the crosswalk when a tractor-trailer approached without a signal, and not only did not stop at the light, but actually accelerated as the cyclist was hit. After 5 spinal surgeries, knee surgery and shoulder surgery, the client still has a lifetime battle ahead of him that includes chronic pain and difficulties resulting from these serious injuries.
In all of these cases, an in-depth knowledge and understanding of the complex medical conditions of each of these clients allowed Ginnis & Krathen to resolve the cases to the client's benefit and satisfaction. Suffering from a spinal injury can be devastating and have lasting effects on a person's life as well as their family. Working with an experienced personal injury attorney can mean the difference between a lifetime of struggle versus financial relief and peace of mind for the injured party.
About Ginnis & Krathen, P.A.
Ginnis & Krathen is a personal injury law firm located in Ft. Lauderdale, Florida. As a boutique firm focusing on personal injury claims, including all areas of negligence, accidents and wrongful death, we are committed to providing our clients with quality, personalized representation that you won't find at a large personal injury law firm. For a free case evaluation, call 954-905-4600 or visit ginniskrathenlaw.com.