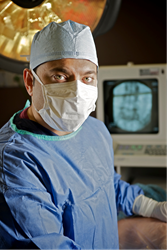 The technological advances being made in the field of neuromodulation are astounding and have revolutionized how we think about treating neuropathic pain!
New Orleans, Louisian (PRWEB) July 23, 2014
Dr. Nomen Azeem with Louisiana Pain Specialists is the first in Southeast Louisiana to implant the Protégé™ IPG, the world's first and only neurostimulation system that allows technology upgrades as they are approved to be made via software updates. With this device, Louisiana Pain Specialists is now able to offer patients suffering from chronic pain a new technology that can access innovative therapies, stimulation modes, diagnostics or other features, as they receive FDA approval through future software upgrades — without the need to surgically replace their medical device.
Spinal cord stimulation, also called neurostimulation, is an important therapy option for patients who have not been able to alleviate their chronic pain through traditional methods such as medicine or surgery. Chronic pain affects 100 million Americans, more than heart disease, cancer and diabetes combined. The debilitating disease is cause for 40 percent of work absences due to back pain, second only to the common cold (50 percent). Chronic pain costs the nation more than $635 billion each year in medical treatment and lost productivity expenses. Spinal cord stimulation is a proven therapy that has been used for over 40 years to help manage chronic pain and improve patients' quality of life.
A 57 year-old man from New Orleans recently received the neurostimulator at Crescent View Surgery Center. His physician, Dr. Nomen Azeem reported "This patient had been experiencing constant severe sharp and burning pain with intermittent tingling in both feet and lower legs for the past seven years. He had been seen by multiple physicians and given various diagnoses but had yet to feel relief of his pain symptoms. He was frustrated with how the pain had begun to limit his life and affect his work. We recommended spinal cord stimulation. He had complete pain relief for the first time during the trial period and enthusiastically moved forward with the permanent implant. I expect this patient to have similar pain relief as with the trial period and for his pain symptoms controlled after seven years of searching for an answer."
"As an interventional pain physician, I witness the debilitating effects of chronic pain physically, mentally, and psychosocially which impact individuals' quality of life. All pain physicians worry of the long term systemic effects of pain medications. Fortunately, the technological advances being made in the field of neuromodulation are astounding and have revolutionized how we think about treating neuropathic pain," said Dr. Nomen Azeem, comprehensive pain management and sports medicine specialist and Louisiana Pain Specialists' Director of Neuromodulation, who performed the implant procedure. "We can now offer a device that with advanced technology allows the ability to upgrade software with each new innovation that is developed. In the appropriate patient, we may be able to decrease the amount of pain medication necessary to control pain symptoms and even allow others to discontinue pain medications altogether."
Similar in function and appearance to a cardiac pacemaker, the Protégé neurostimulator delivers mild electrical pulses to the spinal cord, which interrupt or mask the pain signals' transmission to the brain. By masking the pain signals, patients who receive neurostimulation may see an overall improved quality of life.
Until now, one of the greatest challenges with spinal cord stimulation therapies has been giving patients access to the latest technologies without surgically replacing their medical device. Now with Protégé, patients can have access to future innovations and therapies once approved without the cost and risks associated with surgical replacement.
"Crescent View Surgery Center and Louisiana Pain Specialists are dedicated to finding solutions for successful patient outcomes and improving quality of life," said David Guzan, CEO. "That means that we are committed to investing in innovative medical technology such as the Protégé system."
Protégé from global medical device manufacturer St. Jude Medical is the world's smallest neurostimulator to treat chronic pain of the trunk or limbs and pain from failed back surgery. Patients in Southeast Louisiana are encouraged to talk with their physician if they believe they are suffering from chronic pain. Additional information on Louisiana Pain Specialists can be found at LouisianaPain.com.
About Chronic Pain and Spinal Cord Stimulation
Chronic pain is a largely under-treated and misunderstood disease that affects more than 1.5 billion people worldwide according to the American Academy of Pain Medicine. Neurostimulation studies have shown that spinal cord stimulation systems can often reduce pain symptoms by 50 percent or more. By providing significant pain relief, this therapy enables many patients to increase their activity levels and improve their overall quality of life. Patients can obtain more information about neurostimulation pain therapies at poweroveryourpain.com.
About Louisiana Pain Specialists
At Louisiana Pain Specialists, the focus is on improving the quality of life of patients. The practice has helped thousands of patients get back to doing what is important to them: working, having restful sleep, spending quality time with friends and family, and participating in their normal daily life. Louisiana Pain has been successful in caring for patients with challenging conditions, for whom other treatment plans have failed. With five locations in the New Orleans area, quick access to accurate diagnosis and comprehensive treatment is provided for those who suffer from chronic and acute pain.