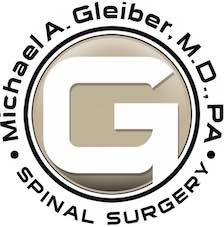 Following these tips will make the overall flight experience healthier and safer, and a more enjoyable holiday season that is memorable for all of the right reasons!
West Palm Beach, FL (PRWEB) December 23, 2015
As reported by ABC News, an estimated 38.1 million people – or about 10 percent of the entire U.S. population – will board a flight this holiday season. And to ensure that travelers avoid turning a festive trip into a visit to the walk-in clinic or emergency room, top spine surgeon Dr. Michael A. Gleiber, MD, FAAOS has published a new article on how to make holiday air travel healthier and safer.
"Whether they're on a quick commuter flight or a cross-country trek, many people experience back pain – especially those who already have a pre-existing back condition, or a lingering injury that has not fully healed or been properly treated," commented Dr. Gleiber, who is a spokesperson for the American Academy of Orthopaedic Surgeons, and exclusively focuses his West Palm Beach-based practice on treating injuries and diseases of the cervical, thoracic and lumbar spine.
According to Dr. Gleiber, travelers should keep the following 6 tips in mind to avoid back pain problems in the air and after they arrive at their destination:

Ensure adequate back support. If bringing a pillow along for the ride isn't feasible due to limited packing space, then use an inflatable pillow. It is also important to support the lower back with a lumbar support pillow or back brace. If neither of these are available, use a rolled up blanket, jacket or sweater.
Sit properly so that the knees are at a right angle (90 degrees), the back is properly aligned, and the headrest supports the center of the head. A pillow can be placed under the feet if desired or necessary. Taller travelers are advised to try and sit in an exit row or bulkhead seat if possible.
Every 30 minutes (unless the fasten seatbelt sign is on), get up, move around, and stretch the hamstrings and hip flexors to promote circulation, prevent blood clots, and ease tension in the lower back. This routine also delivers nutrients and oxygen to the back, which keeps the tissues from stiffening – and causing pain.
Cabin air is very dry, and flying dehydrates the body due to the high altitude. Stay hydrated by drinking water, and avoiding coffee, tea, alcohol and soda. Drinking water also helps prevent circulatory problems that result from stiffened tissues.
Try to book a flight that is less likely to be packed with fellow travelers, so that there is more room to move around and stretch. Fewer passengers also typically means that more overhead storage bin space is available, and therefore more legroom.
Pack as lightly as possible, and use a lightweight suitcase with wheels and a handle. And when lifting luggage, always bend at the knees and try to distribute the weight evenly. If using a shoulder bag, then frequently switch sides in order to avoid placing excess stress on one side of the back.
Added Dr. Gleiber: "Following these tips will make the overall flight experience healthier and safer, and a more enjoyable holiday season that is memorable for all of the right reasons!"
The full text of article entitled "Air Travel Tips from a Spine Surgeon" is available on Dr. Gleiber's website at http://michaelgleibermd.com/news/air-travel-tips-spine-surgeon.
Additional articles by Dr. Gleiber on spine health, pain relief, effective exercising and more are available at http://michaelgleibermd.com, or by following Dr. Gleiber on Facebook and Twitter.