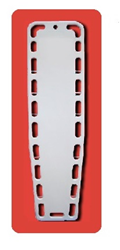 A perfect spine board for all the public swimming pool and lifeguard needs.
Los Angeles, CA (PRWEB) February 17, 2015
When it comes to being prepared in an emergency, lifeguards must be on guard for any situation and prepared for any injury. For this reason, lifeguards and other emergency personnel keep professional spine boards available as they can help prevent serious injuries. Lifeguard Master, the popular lifeguard supply company, offers a professional spine board that can be used in dry or wet environments.
Unlike other backboards, this product is a professional spine board with a seamless design, preventing fluids from entering the inner core and eliminating cross-contamination. Created from polyurethane, the shell of this professional spine board is extremely heavy duty to withstand elements such as chlorine or ocean water.
With a 600-pound patient weight capacity, this spine board comes with 21 hand-holes and 8 pins for different strapping needs. The spine board itself weighs 19 pounds and measures 72 inches long, by 18 inches width, by 2.5 inches thick. The spine board also has a floating capacity of 200 pounds for when being used to rescue victims in water. To view a video of the spineboard, please click on: Spineboard Video
Lifeguard Master also offers a quality head immobilizer that is compatible with all spine boards and lifeguard backboards. With no metal components in the head immobilizer, this piece can be worn during x-rays, MRI scans, and CT scans. The head immobilizer features large circular ear holes to monitor bleeding and fluid drainage without having to take this device off. Two head and chin straps along with a base plate adhere easily to the board. Side blocks with wide fast-stick closures allow for a snug fit as well as 50 percent more support surface.
Weighing only two pounds, the head immobilizer measures 10 inches in length, 16 inches in width, and 7 inches high. The head immobilizer is waterproof and buoyant so this tool can be used in water or on land.
Laura from Canada says, "From Lifeguard Master, I ordered spinal board straps, spinal board head immobilizers, whistles, and a full spinal board with straps and a head immobilizer. The straps and head immobilizers that I purchased were exactly what I wanted. The straps are very good. They are very easy to tighten with the buckles. On the head immobilizers, the Velcro sticks very well and I have had no issues with them… The spinal board that I ordered is very buoyant. It is a little bit hard to knife but other than that, it is good. It's very good to float once the victim is on it."
Those in need of spine board Velcro straps need not look any further as Lifeguard Master also offers quality and affordable spine board straps. Measuring 72 inches in length and 2 inches in width, these spine board straps are made of durable nylon webbing covered with Velcro allowing for fast and firm immobilization.
Lifeguard Master also offers a variety of other types of spine board or lifeguard backboard straps including quick release straps, color backboard straps, spider straps, color spider straps and more.
The quick release strap comes in both a one-piece and two-piece version. The one-piece is the most popular strap and used for fast and firm immobilization. Created from extremely durable nylon webbing, this one-piece quick release strap comes with plastic clips and can be used with any spine board.
The two-piece quick release strap has loop ends to attach itself to the spine board handles that is still user friendly and extremely durable. Created from durable nylon webbing, this strap is only slightly different than the popular one-piece quick release strap.
The reflective 10-Point Straps are used widely by EMS professionals because of their ease of use. Created from heavy nylon webbing, these 10-Point Straps are extremely durable and the reflective strip makes it optimum for use in dark areas. These straps fit all spine boards and have Velcro straps for easy and secure use.
No matter if a lifeguard, EMS professional, or group needs replacement parts or an entire kit, Lifeguard Master has it all at an affordable price with high-quality items.
Lifeguard Master has been in the emergency and life saving industry for many years. Sammy, the owner and founder of Lifeguard Master has been a lifeguard himself for 7 years. He knows the importance have having all the equipment readily available for a first responder, and through the years Lifeguard Master has become a robust lifeguard supply and lifeguard store company, accommodating the anticipating needs of first responders around the country and around the world. Lifeguard Masters determination to excellence and rescue safety has quickly made it a leader in its industry. For more information, please give us a call, send us an e-mail or visit our website. Also to stay updated with the latest news in emergency supplies, please visit our forum where rescue professionals from around the country and world stay connect, and post the latest emergency news at LifeguardsOnline.com.
Sammy
Lifeguard Master
(714) 605-3090
http://www.LifeguardMaster.com