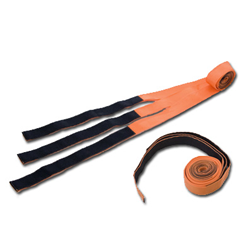 Velcro spine board strap is a top seller
Los Angeles, CA (PRWEB) November 18, 2014
When someone is injured, it can be important to know when and when to not make a move. Depending on the injury, a lifeguard may want to stabilize the victim, however, a properly trained professional will know they have to have the correct tools to do so. When someone is injured, it is critical for the right steps to be taken as the wrong move can cause lasting damage. For this reason, Lifeguard Master has released a new line of spine board straps, spine boards, and head immobilizers so a lifeguard can always be prepared.
Lifeguard Master offers a variety of backboard and spine board straps. The Quick Release Strap is one of the most popular strap and is incredibly durable. Made of nylon webbing, this spine board strap comes with plastic clips and can be used for all spine boards or backboards on the market.
The Velcro backboard straps allow the rescuer to secure the victim at three different points and either carry them or float them to safety. Each strap is 72 inches long and 2 inches wide, allowing the straps to cover a victim thoroughly. Made of durable nylon webbing covered with Velcro on the other side, these backboard straps are great for any spine board or backboard.
The Spider Strap is a reflective 10-point strap that is a favorite among EMS professionals because of how easy it is to use. Made of heavy nylon, this spine board strap is far superior compared to others on the market. This reflective strip comes in a carrying case and is great for dark areas on land or in the water because of the reflective material the strap has. With a one year warranty under normal use, this Spider Strap has Velcro straps at the end of the strap for a secure and custom fit every time.
There are some items people purchase that they hope they never have to use. A spine board is one of those items. It is a scary thought that someone might be injured in such a way that their spine is somehow damaged, however, it is a tool that is necessary to have on hand in case such an injury occurs.
The spine board with head immobilizer and strap kit contains a spine board, a head immobilizer, and three Velcro straps. Unlike other backboards, this professional spine board features a seamless design that prevents fluids from entering and eliminating cross contamination for both professionals and the victim. Guaranteed x-ray translucent between hand holes, this spine board offers a polyurethane shell that has a 600-pound patient weight capacity. With 21 hand-holes and 8 pins for strapping needs, this spine board is exceptionally durable. To view a video of this kit, please click on: The spineboard kit with head immobilizer and straps
The spine board is waterproof and has a 100 percent guarantee of workmanship under normal usage allowing a guarantee for life. Measuring 72 inches long, 18 inches wide, and 2.5 inches thick, this spine board weighs 19 pounds and is extremely durable.
The board has a floating capacity of 200 pounds and comes in one simple part meaning no assembly required. Never needing maintenance of any kind, the spine board is designed to be left indoors or outdoors in different elements such as wind, rain, chlorine water, and ocean salt water.
The head immobilizer, also included in the kit, is compatible with all spine boards and lifeguard backboards available on the market. This particular immobilizer features side blocks with a wide fast-stick closure for a snug fit. With 50 percent more support surface compared to other head immobilizers, this product offers large circular ear holes to monitor bleeding and fluid drainage. The immobilizer also features two head and chin straps with a base plate that adheres easily to the board for easy set up. As this product has no metal components, it can be worn during x-rays, MRI, CT scans, and more. Weighing just two pounds, this head immobilizer is waterproof and buoyant so it can be used for water rescues. The smooth surface makes it easy to clean and disinfect for many uses.
[Whether it be spine board straps or other gear, when a lifeguard or EMS professional is looking to get extra parts for a spine board kit or needs an entirely new kit, Lifeguard Master has the supplies necessary to be prepared in an emergency. These superior and quality products make any medical professional or lifeguard prepared for the worst scenario and able to save a life when needed.
Lifeguard Master has been in the emergency and life saving industry for many years. Sammy, the owner and founder of Lifeguard Master has been a lifeguard himself for 7 years. He knows the importance have having all the equipment readily available for a first responder, and through the years Lifeguard Master has become a robust lifeguard supply and lifeguard store company, accommodating the anticipating needs of first responders around the country and around the world. Lifeguard Masters determination to excellence and rescue safety has quickly made it a leader in its industry. For more information, please give us a call, send us an e-mail or visit our website. Also to stay updated with the latest news in emergency supplies, please visit our forum where rescue professionals from around the country and world stay connect, and post the latest emergency news at LifeguardsOnline.com.
Sammy
Lifeguard Master
(714) 605-3090
http://www.LifeguardMaster.com