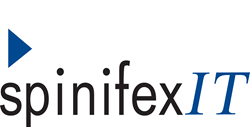 The ability to use conditional formatting to vary document output makes Strato unique in the marketplace
Las Vegas, NV (PRWEB) February 23, 2016
SpinifexIT, the global leader for HCM business process software solutions, today announced the release of Strato, a new cloud-based employee document generation solution for users of SAP® SuccessFactors.
Strato is a software-as-a-service that integrates data from SAP SuccessFactors Employee Central and SAP SuccessFactors Recruiting to create employee documents, letters and statements. As a cloud-based solution, Strato's documents can be generated from within SAP SuccessFactors by users of all types, from employee and managers to HR administrators and recruiters.
"SAP SuccessFactors is leading the HCM cloud revolution," said Darren Pithie, SpinifexIT Global CEO. "Strato highlights SpinifexIT's on-going commitment to developing innovative software that helps SAP SuccessFactors customers of all sizes maximize the return on their cloud HCM investments."
Strato resides on the SAP HANA Cloud Platform and uses single sign-on to create a consistent, integrated experience for SAP SuccessFactors users. Upcoming releases are planned to extend data integration to on-premise SAP ERP HCM data and will make Strato the only solution to produce documents with data from both on-premise SAP HCM and SAP SuccessFactors systems.
"The ability to use conditional formatting to vary document output makes Strato unique in the marketplace," said Gregory Tutt, SpinifexIT's Global Solutions & Innovations Architect. "This decreases the number of templates needed, reduces time spent creating employee documents and improves document accuracy," added Tutt.
Strato is being formally introduced at the SAPinsider HR2016 conference in Las Vegas this week. Additional information about Strato can be found at http://www.StratoHCM.com.
About SpinifexIT
SpinifexIT is an SAP partner and global leader in the production of SAP-certified business process improvement software. SpinifexIT produces innovative software solutions for SAP and SAP SuccessFactors that improve user productivity, produce more meaningful reports and documents and increase the effectiveness of shared service centers. With its global headquarters in Melbourne, Australia and regional offices in Atlanta, Charlotte, London, Singapore, Manila and Dubai, SpinifexIT produces HCM software solutions for companies of all sizes all over the globe. Learn more about SpinifexIT's solutions at http://www.SpinifexIT.com.
SAP IS A REGISTERED TRADEMARK OF SAP AG IN GERMANY AND SEVERAL OTHER COUNTRIES.