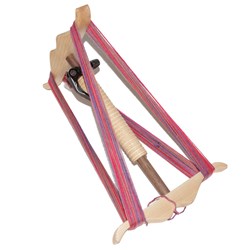 Our Niddy Noddy is simple, adjustable and made in right here in Spokane, Washington!
Spokane, Washington (PRWEB) September 30, 2013
This month, Paradise Fibers releases another innovative product to the craft world. The Paradise Niddy Noddy retails for $60 and is a common tool used by hand spinners and hobbyists to set the twist on handspun yarn. It is made from maple and walnut to match their custom high end Spinning Wheel called the "Revolution."
"Many of the Niddy Noddy devices on the market have shortcomings, we wanted our Niddy Noddy to look great but also perform better than other brands," says Bill Romine of Paradise Fibers. The Paradise Niddy Noddy uses a quick release clamp to easily adjust the length of the skein and has marks for referencing the traditional 1 yard and 1.5 yard lengths.
The solid but adjustable design outperforms all of the currently available Niddy Noddy tools on the market with ease of use and solid design. Paradise Fibers is family owned and operated and believes in keeping the money and jobs local as much as possible. Paradise personally released the Niddy Noddy this past weekend at their 1 annual open house to a roaring crowd of over 200 Spinning, Weaving and Knitting Enthusiasts that attended.
Paradise Fibers has been in business since 1995 selling Spinning Wheels and more to the Hobby and Craft Market. The company is family owned and operated and consists of a variety of Romine family members young and old with a sprinkle of dedicated fiber junkies and stunt men.
Contact:
Travis Romine - Spinmaster General
travis(at)paradisefibers(dot)com
http://www.paradisefibers.com
225 W Indiana
Spokane, WA 99205
(509) 536-7746