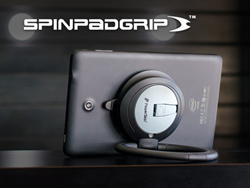 I loved using my tablet, but hated how uncomfortable using it could be, especially when it kept slipping from my hands.
Irvine, CA (PRWEB) September 03, 2014
SpinPadGrip, the most multi-functional, compact and universal device available for carrying and displaying an iPad, tablet or e-reader, has launched a crowdfunding campaign on Kickstarter today, September 3, 2014. The design aims to raise $35,000 throughout its 30-day campaign. SpinPadGrip's versatile design functions as both a stand and a handle that allows the user to carry and display a tablet in various ways, making tablet use more comfortable and efficient.
"I loved using my tablet, but hated how uncomfortable using it could be, especially when it kept slipping from my hands," SpinPadGrip inventor Paul Robert said. "I began looking for a solution in other tablet stands and handles on the market, but couldn't find anything that provided an all-in-one fix. Finally, I decided to design my own solution."
SpinPadGrip's unique design allows it to be compatible with most any tablet or e-reader, and even most smooth-surfaced protective cases. Instead of fitting over an entire tablet, SpinPadGrip attaches to the back of a tablet with a suction cup that uses AutoGrip™ technology. The ergonomic design suctions securely every time, easing fears of dropped tablets and cracked screens. A simple open-and-lock tab on SpinPadGrip makes it easy to remove and reattach as many times as needed.
The all-in-one design functions with a handle that rotates 360° and reclines 180° around a circular base, giving the tablet virtually unlimited versatility. Instead of a static setup, a simple twist or flip of the handle places the tablet perfectly for viewing, typing, carrying or presenting the screen to someone else. SpinPadGrip also allows the tablet to be more functional for gripping and gaming, hanging, or sitting on a desktop in portrait or landscape mode.
This sleek handle will be available in solid black and a limited edition metallic green and black, with the possibility for a wider color range in the future. The first 150 backers of the campaign can receive their own SpinPadGrip for just $25. The device will later retail for $50. There are only 100 Limited Edition SpinPadGrips available for $40 each, which is 20 percent off the future retail price. To learn more about SpinPadGrip, please visit the Kickstarter campaign page at http://bit.ly/SpinPadGripKS.
ABOUT POWERSKIN
PowerSkin believes in empowering through technology and inspiring through creativity. Its goal is to provide customers with the slimmest and most stylish easy to use, easy to carry portable power solutions. PowerSkin is renowned for its patented battery technology that it pairs with protective casing for fully-charged, fully-protected devices. Customers of PowerSkin never have to worry about power and can live life fully charged.