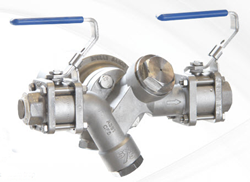 Blythewood, South Carolina (PRWEB) September 22, 2015
Spirax Sarco, the leader in products and services for steam system solutions is pleased to announce the release of the STS17.2 Steam Trapping Station. The STS17.2 is a complete assembly comprised of an isolation valve, a steam trap connector with strainer and a check valve in a sleek, modular body. The convenient 'ready-to-install', single-piece body virtually eliminates potential leak paths caused by multiple screwed connections that conventional steam trapping stations and on-site fabricated installations typically include.
The STS17.2 steam trapping station technology allows a steam trap to be changed in minutes rather than hours, reducing plant downtime and ensuring hassle-free maintenance.
Features and benefits include:

Quick and simple maintenance of the steam trap with simple two-bolt connector, reducing system downtime and maintenance costs
Innovative leak free body design that reduces carbon footprint
Ability to integrate steam trap monitor allows for quick recognition of trap failure
Pre-assembled construction makes installation quick and easy
High performance stainless steel components for long, trouble-free service
###
About Spirax Sarco, Inc.
For engineers around the world Spirax Sarco is synonymous with excellence in steam system management. We offer the industry's most extensive range of products and services, coupled with expertise based on over a century of practical application across a variety of industries. In short we create the solutions that set the benchmark for steam-using organizations worldwide, working alongside them to improve productivity, save energy and reduce waste.
Our commitment to customers is supported by over 1,100 dedicated engineers, a direct sales force in 55 countries worldwide, through which we serve customers in around 100 countries and complemented by substantial investment in state-of-the-art locally based manufacturing. Our aim is to help customers build sustainable and profitable business, using their country and industry insight to tailor solutions precisely to their needs. Further information can be found at http://www.spiraxsarco.com/global/us.