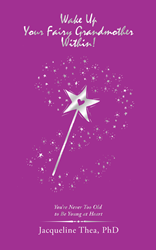 "As the Fairy Grandmother, I want to inspire people of all ages to find happiness and hope in their lives," Thea said. "No matter what age you are, you can always be young at heart!"
BEND, Ore. (PRWEB) October 21, 2019
Inspired by an enchanting vision of a fairy grandmother during a time of grief in her life, Jacqueline Thea, PhD wanted to become a fairy grandmother herself in order to help others who were grieving. Therefore, she wrote her book, "Wake Up Your Fairy Grandmother Within: You're Never Too Old to Be Young at Heart," so she could begin to travel to various retirement and nursing communities and bring joy to residents' lives.
This spirited fantasy book was written to encourage readers, who are in the autumn and winter of their lives, to continue to find joy and connect with their youthful spirit. This book contains various delightful, endearing characters (such as Prince, the Charming Greyhound; The Dandelion Fairy; and Little Sunshine) to spark cheer within the readers.
"As the Fairy Grandmother, I want to inspire people of all ages to find happiness and hope in their lives," Thea said. "No matter what age you are, you can always be young at heart!"
The readers can continue to connect with the themes presented in "Wake Up Your Fairy Grandmother Within" by filling out the reflection pages at the end of the book. Also, this book includes a meditation to help the readers absorb the concepts presented in the book– building a mind, body and soul connection.
"Wake Up Your Fairy Grandmother Within: You're Never Too Old to Be Young at Heart"
By Jacqueline Thea, PhD
ISBN: 978-1-9822-2940-5 (softcover); 978-1-9822-2939-9 (electronic)
Available at the Balboa Press Online Bookstore, Amazon and Barnes & Noble
About the author
Jacqueline Thea, PhD is an expert in her fields of psychology, healing and shamanic studies. She is a licensed psychotherapist and dream counselor. Also, Thea is a former professional guardian/conservator, registered nurse and practitioner of harp therapy. With her background in mental, physical and spiritual health paired with her extensive life experiences, she developed "Wake Up Your Fairy Grandmother Within" to help spark joy in their lives of others. To learn more, please visit: https://jacquelinethea.com/.
For Interview Requests & Review Copies, Please Contact:
LAVIDGE – Phoenix
Krista Tillman
480-648-7560
ktillman@lavidge.com
###