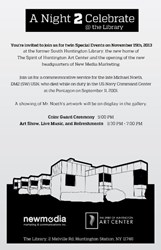 The move to this great space at the Library really brings our passion for art and teaching full circle.
Huntington Station, NY (PRWEB) November 06, 2013
The Spirit of Huntington Art Center has relocated to the former South Huntington Station Library to house its new art center, gallery and classrooms at 2 Melville Road, Huntington Station, NY.
The opening gala will feature the artwork of Michael Noeth DM2(SW)USN, who was serving as draftsman/illustrator at the Navy Command Center at the Pentagon on September 11, 2001. He was 30 years old. A Color Guard ceremony will mark his remembrance.
A gifted artist from childhood who went on to study at the Fashion Institute of Technology (FIT) in New York City, Mr. Noeth's paintings vividly depict nautical themes and his life experiences on tour with United States Navy.
Erich Preis, founder and recognized artist in his own right, created the non-profit Spirit of Huntington in memory of his friend, who were roommates at FIT, with an extensive, year-round program of therapeutic art classes for veterans as well as special needs kids in partnership with the South Huntington School District.
"The move to this great space at the Library really brings our passion for art and teaching full circle," says Preis. "I'm thrilled to have this opportunity to honor the memory of a true friend and fellow artist while continuing to serve our community with meaningful outreach to people who really benefit from it."
In addition to being Executive Director of the Spirit of Huntington (and teacher), Michael Kitakis, CEO of New Media Marketing (NMM) saw the shuttered former Library as the ideal space to co-locate his marketing agency from both a creative and business standpoint.
"We've created an amazing environment where art, creativity and commerce work in harmony to create fantastic work, both for the community and for our clients," says Kitakis. "The art and power of new media is at large here, and we're looking forward to taking our capabilities and resources to a whole new level based on this dynamic partnership with the district, the art center and now of course, a full-service marketing and branding agency."
Both organizations celebrate the opening of their new space at the Library on November 15, 2013, entitled "A Night 2 Celebrate at the Library."
For an invitation to this twin special event, click here.
For more information about the New Media Marketing opening of its new headquarters at the Library, click here.