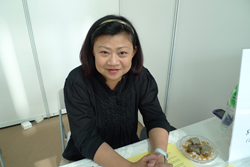 Jenny did a psychic reading for me and fortold events that would took place in my life for the next two years. Whatever she said has come true!
Singapore (PRWEB) April 24, 2014
Singaporean Spiritual Healer and Psychic Reader, Gypsee Jenny, will participate in the Heart, Mind and Body Festival 2014 for the third time and many past festival visitors are looking forward to meeting her again.
The Heart, Mind and Body Festival 2014 will run between 25 April and 27 April 2014, at SCCCI Auditorium, 47 Hill Street, Singapore 179365. The festival is an annual holistic health and wellbeing extravaganza catering to anyone seeking masters who specialize in all types of holistic wellness, including alternative medicines, complementary therapies, energy healing, health foods, meditation, angel, astrology, numerology, palmistry, physiognomy, psychic and tarot readings, yoga, personal development and life coaching.
Gypsee Jenny has used psychic readings and spiritual healing to help people in Singapore and beyond for more than 30 years. She is probably the only Singapore psychic reader to be interviewed by The Singapore Chinese Newspaper, Lianhe Zaobao, and the Singapore Paranormal Investigators (SPI).
In addition, she has assisted SPI with numerous queries about spirituality and paranormal activities and she appeared on Singapore's Mediacorp Channel 5 television in one of the episodes of Incredible Tales. Following this, she was also featured on Singapore's Indian language TV channel, Vasantham.
Hundreds of her clients found her by searching on the internet and making enquiries through her website, which also takes appointments for anyone who wanting to meet Jenny in person for psychic readings and healing.
Client Sarah Brown from Devon, England says, "I found Jenny on the internet after I came to Singapore with my husband about two years ago when he was offered a job. I was not accustomed to the ways of Singaporeans and I always felt depressed and moody. I missed my hometown and my relationship with my husband got worse after we arrived in Singapore."
"Jenny did several chakra healing sessions for me and I was soon able to adjust to Singapore's lifestyle. My husband also noticed the changes in me and started communicating with me again. I was so much happier."
"We are now back in England after my husband's contract finished. Whenever I am feeling down or am facing a problem that I feel I cannot handle, I will email Jenny and she will do several Distance Healings for me. That always does the trick!"
"I have recommended Jenny to several of my friends and they always go and see her when they are on holiday in Singapore."
If you are going to the Heart, Mind and Body Festival 2014 (25 - 27 April 2014) look out for Gypsee Jenny at booth D4 where she is offering an introductory psychic reading during the festival for a very special rate, not available on the internet.
After the three day event, you can continue to contact Jenny for a more detailed reading, or for a spiritual healing session – perhaps even her most popular psychic therapy, which makes use of both crystal and chakra healing. The power of Jenny's psychic therapy is clear from these testimonies:
T. Jones, from Sydney, Australia commented that as he was passing through Singapore on the way to Hong Kong, a friend strongly recommended he see Jenny.
He adds, "Jenny did a psychic reading for me and foretold events that would take place in my life for the next two years. Whatever she said has come true!"
"I was thrilled with Jenny's reading and now I always visit her for healing when I am in Singapore."
"The chakra healing sessions have helped me a great deal in controlling my nerves when I have to attend important meetings and my relationship with my wife has become a lot more intimate."
Over the years, Jenny has helped people in many different ways. As she did for Mr Jones, she has assisted many couples in rekindling the love in their marriages; and she has also helped feuding siblings and relatives who have not spoken for many years to make up; solved mystery ailments and health issues; and provided great advice about careers and business decisions.
Singaporean Mei Chi benefited from Jenny's services when she was trying to find out more about her father with whom she lost contact after her parents divorced when she was very young.
She revealed. "With Jenny's help I managed to contact my dad and his family. My dad is still single and never remarried after the divorce. I found out that a lot my mum told me about dad was simply not true."
"Initially, My mum was not happy but she has gradually accepted the fact that she cannot stop me from seeing my dad."
"My dad and I meet every week for a meal and chit chat. Sometimes we will go to my grandmother's place and I get to meet my aunts and uncles whom I am just getting to know. It's lovely to suddenly have a much bigger family."