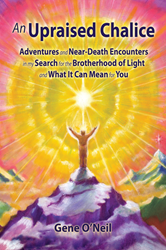 Practical insights cut across religious boundaries to convey a vibrant spirituality in plain, accessible language. - ForeWord Reviews
Brattleboro, VT (PRWEB) March 27, 2014
ASEMC Press announced the upcoming publication of a controversial new book detailing an individual's forging of a new spirituality outside of conventional religious dogma. "An Upraised Chalice" has been awarded the prestigious 5 Stars from ForeWord Reviews. "Are you spiritual but not religious?" is a question many have considered according to recent stories on CNN. The author answers the question with his own intense story while on a lifetime spiritual quest that takes him outside the realm of conventional religions.
ForeWord Reviews stated "Nothing gets one's attention like one's imminent demise," writes Gene O'Neil in An Upraised Chalice, a book that chronicles the remarkable travels, adventures, and near-death experiences that have marked his quest to discover the meaning of life. O'Neil's practical insights, born of experience, cut across religious boundaries to convey a vibrant spirituality in plain, accessible language." – ForeWord Reviews.
Professional readers, including booksellers, librarians, media, bloggers, reviewers and educators can obtain free review copies at the NetGally page for "An Upraised Chalice".
"There's no better place to begin, for true spiritual revelation, than with one's own personal experience. 'An Upraised Chalice' sets the tone for anyone ready for their own journey of discovery," stated D. Donovan of Midwest Book Reviews in her review of the book. "Those who would drink from O'Neil's chalice of understanding will find its contents full and complex. Near death encounters, a travelogue to the world's spiritual places and their impact on his life and understanding make for a fascinating blend of self-inspection, pilgrimage, and revelation that holds many possible truths that will resonate with many readers."
"An Upraised Chalice – Adventures and Near Death Encounters in My Search for the Brotherhood of Light and What this Can Mean for You" ISBN 978-0-9912635-0-9 will be available from Amazon and through the Ingram distribution network in May 2014