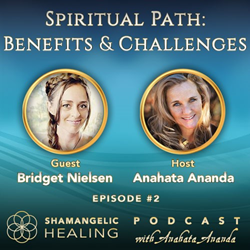 I wasn't respecting the person I was becoming
SEDONA, Ariz. (PRWEB) May 08, 2019
Anahata Ananda, founder of Shamangelic Healing and Shamanic healer in based in Sedona, Arizona, joins Bridget Nielsen, inspirational spiritual enlightener and world renowned retreat facilitator, for an in depth look at the journeys undertaken to fully follow a spiritual path. On the Shamangelic Healing Podcast, discrepancies experienced in their childhood is one of the first challenges they address. "I was not really raised religiously," shares Anahata, however she did attend Christian summer camp. "There was something that touched me about reaching to a higher source about ethics and a guiding way of being," which she states she learned from her experiences there. She goes on to reveal she felt lonely and uncomfortable untethered to any particular religion as the more she sought answers in traditional scriptures, the more she found they did not resonate with who she felt she was at her core level.
Nielsen admitted she had similar experiences in her upbringing. "Being in a very dogmatic community... I was hearing that I was a sinful little girl, and... I hadn't done anything!" she emphatically shares. Feelings of guilt and shame for not conforming to the community's religious beliefs began her search for spirit and led her to find refuge in nature. She did not have a supportive group to encourage her search. "I was actually following all their principles, but I knew that I was not saved," she points out. As she considered her options, she, at the time as a young child, also felt alone.
Both Anahata and Nielsen, felt one way to gain validation was to be the best they could be as young adults, finding their way through the "corporate world", and gaining status and recognition through their career. Neither women conformed to what did not resonate with the path they knew to be right for them individually. As Anahata and Nielsen began achieving the recognition they sought in their chosen job paths, they each felt there was something still missing. "I wasn't respecting the person I was becoming," says Anahata. Through inquiring about how she managed, Nielsen finds out Anahata's coping mechanisms. "How I sedated was with food… with shopping, with just being busy, with diving into care-giving, ignoring it, and taking care of everybody at the expense of self," divulges Anahata. They both consciously chose what they refer to as "liberations" in their lives which blossomed open their insatiable appetite for living their respective spiritual paths. Anahata and Nielsen both currently offer healing sessions counseling clients going through their own spiritual awakenings and offer the tools to navigate how to be authentic during these pressure-filled times.
Moving full fledged into what they are calling their "awakening," the women share they both fell into a period of "spiritual elitism" in the beginning. "I was so emotionally angry and cold, that it left everybody else feeling that too," Anahata shares of her view of others who hadn't had their awakening yet. Nielsen viewed others who were not yet spiritually on their path as "Muggles," (a popular Harry Potter reference for mainstream human beings). Both women quickly realized in their development that the concept of "unity consciousness," meaning everyone is a reflection of each other, did not allow for the concept of separation.
The one hour podcast concludes with misconceptions about following an individual path and surprisingly practical and easy to follow resources to assist those on the awakening journey. The episode can be heard on YouTube, iTunes, Stitcher, and Spotify.
Bridget Nielsen is an intuitive healer and personal development mentor, who specializes in uniting our metaphysical reality with our modern world. She is a world renowned facilitator and has hosted retreats in sacred sites around the world. She has inspired the lives of many, with over 200 videos and 2.7 million views to enlighten your spiritual awakening and living a healthy life that fulfills your soul.
Anahata Ananda blends the compassion and tenderness of an Angel and the wisdom and strength of a Shaman to guide profound journeys of core healing and spiritual awakening. As a Certified High-Performance Coach, host of the international Shamangelic Healing Podcast, Shamanic Healer and Soul Guide, Anahata has guided thousands of individuals across the globe through core life shifts, helping them to turn their life around and create the life of their dreams. She offers deep healing through in-person sessions in Sedona, Arizona and supportive online courses for self-paced, at home learning. https://shamangelichealing.com