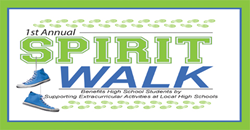 Join The SPIRIT WALK - Raising Money For Local High Schools on May 20th, 2017!
Coon Rapids, MN (PRWEB) April 21, 2017
According to Up2Us Sports, 27% of U.S. Public High Schools will eliminate their activity programs by the year 2020 because the schools, parents and students cannot generate enough financial support on their own to keep these programs viable. For some families these extra-curricular activity costs are already out of reach. Recognizing the vital role and impact school programs have on student lives, the SPIRIT Walk seeks to enhance the traditional funding mechanisms available to schools.
Parents, grandparents, alumni, students, booster clubs and other community groups from each of these school communities are encouraged to set aside their rivalries and join together on May 20th. Registration is $10 and there is a $50 fundraising minimum. Kids 12 & under are free. There are also great incentive prizes for individuals and corporate teams who exceed those minimums.
Pledges are 100% tax-deductible. 100% of the net proceeds of the SPIRIT Walk will be donated to the participating SPIRIT schools based on donors' preference. To learn more about the SPIRIT Walk, to register or pledge please visit http://www.ahcuspiritfoundation.org or call 763.422.0290.
Anoka Hennepin Credit Union (AHCU) was founded by teachers and staff of the Anoka Hennepin School District in 1963. The Centennial, Forest Lake and St. Francis school districts are now also served by AHCU. Anoka Hennepin Credit Union now serves persons who live, work, worship or attend school in Anoka, north Hennepin, north Washington and south Chisago counties. The SPIRIT Foundation was incorporated in 2016 to address looming funding challenges for extra-curricular activities at our local SPIRIT high schools and other youth focused non-profit organizations. To learn more about AHCU please visit http://www.ahcu.coop.