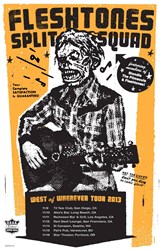 Boston, MA (PRWEB) October 23, 2013
Recently-formed rock & roll supergroup The Split Squad will kick off its "West of Wherever Tour 2013" this fall, with a series of shows in advance of the release of their debut album. Now Hear This will have its official U.S. release in Q1 of 2014 (CD, digital and vinyl), with a limited advance quantity available for sale on the tour.
Following up a successful live debut at SXSW earlier this year, The Split Squad will start their West Coast swing on November 9 in San Diego, and wrap up on November 16 in Portland, sharing bills with legendary NYC-based rockers The Fleshtones. Dates and venues for The Split Squad's "West of Wherever Tour 2013" are:
11/9 – San Diego, CA – Till Two Club w/The Fleshtones
11/10 – Long Beach, CA – Alex's Bar w/The Fleshtones
11/12 – San Francisco, CA – Red Devil Lounge w/The Fleshtones
11/14 – Seattle, OR – El Corazon w/The Fleshtones
11/15 – Vancouver, BC – Pat's Pub w/The Fleshtones
11/16 – Portland – Star Theater w/The Fleshtones
Additional tour dates beyond the West Coast include:
11/22/13 – Cleveland, OH – Beachland Ballroom Opening for The Dream Syndicate
11/23/13 – Detroit, MI – New Dodge Lounge w/Amy Gore & Her Valentines
Formed in 2011, The Split Squad is the the brainchild of bassist/singer Michael Giblin, of the Pennsylvania-based powerpop band Parallax Project. The band is comprised of a team of heavy-hitting veteran musicians Giblin had met and worked with over the years on tours and various recording projects. The other members of The Split Squad are:
Drummer Clem Burke, best known as a founding member of Blondie, and a 2006 Rock & Roll Hall of Fame inductee. Burke is also a highly sought-after session musician who has worked with Pete Townshend, Bob Dylan, Iggy Pop and Joan Jett, among many others.
Guitarist Eddie Muñoz of L.A.'s legendary powerpop outfit The Plimsouls (whose single "A Million Miles Away" charted on the Billboard Hot 100) and more recently Magic Christian and Parallax Project, with Giblin.
Guitarist Keith Streng, founding member of seminal rockers The Fleshtones, longtime fixtures of the New York garage-rock scene that grew from the famed Manhattan music club CBGB.
Keyboardist Josh Kantor, of The Baseball Project and Boston-based folk-rock band Jim's Big Ego, whose "day job" has him at Fenway Park serving as the organist for the Boston Red Sox.
Featuring 13 tracks (including a cover of The Small Faces' "Sorry She's Mine") Now Hear This is the unmistakeable product of its members common influences, rooted in the classic powerpop, punk, glam and garage rock of the 1970s and '80s. The album was produced by Seattle music icon Scott McCaughey, best known as a founding member of cult favorites The Young Fresh Fellows and the Minus 5, who has also played and toured extensively with R.E.M. Adding to the star power on The Split Squad's debut album are guest appearances by McCaughey, Peter Buck (R.E.M.), Hugo Burnham (Gang of Four), and Mike Gent (The Figgs). Now Hear This was recorded in the summer of 2012, at Woolly Mammoth Studios in Waltham, MA.
For more information, please visit the band's official website at http://www.thesplitsquad.com and their Facebook page at http://www.facebook.com/TheSplitSquad.
To schedule an interview, or for high-resolution photos, MP3s/CDs, and other press materials, please contact Andrea Kremer at Shake & Howdy, at 781-214-4412 or andrea(at)shakeandhowdy(dot)com. For booking information, contact Roggie Baer at Rajiworld, at roggie(at)rajiworld(dot)com.
###