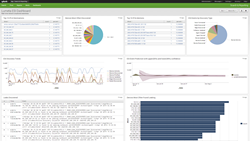 This Splunk dashboard for Lumeta is a framework for ESI events to be visualized, sliced, and diced from the Splunk Enterprise web user-interface.
Somerset, NJ (PRWEB) August 05, 2014
Lumeta Corporation has enhanced the integration between its Lumeta ESI (Enterprise Situational Intelligence) software and Splunk Enterprise real-time operational intelligence software. Feeding Lumeta's comprehensive network intelligence into Splunk increases its effectiveness and provides joint customers with enhanced network situational awareness.
Lumeta ESI provides real-time network situational awareness which enhances the emerging continuous cyber security monitoring programs advocated by industry initiatives from SANS and DHS' CDM, for example. Lumeta ESI's hybrid approach to network situational awareness crawls the network, combining the accuracy of network/device scanning with the real-time nature of listening to network traffic. This methodology provides a "live look" into the network infrastructure; closing the network visibility gap in enterprise BYOD, IPv6, virtualization, Cloud, and Outsourcing projects – which often introduce undesirable, unknown or unmanaged nodes, connections, and risk into the enterprise.
In order for a Security Operations Center (SOC) to effectively respond to cyber threats, it needs to be working from a holistic view of the network. Even the best run enterprise networks exhibit a 20% gap in network understanding and visibility. As a result, there exists unknown (therefore unmanaged) address space in use, unmanaged (therefore vulnerable) assets/devices, potential leak paths that can be used for data exfiltration, and myriad other network anomalies. Lumeta ESI closes this gap. By feeding its discovered network intelligence into Splunk Enterprise, Splunk can then perform at its best – working with 100% network visibility.
ESI supports syslog exporting of Common Event Format (CEF) notifications. Lumeta ESI uses CEF to make Splunk aware of critical real-time network events – such as unknown devices, routers with unknown connections, infection signature ports, unauthorized forwarding devices, and inbound/outbound leak paths. Lumeta has a simple dashboard that runs within Splunk to visualize network situational awareness events. This Splunk dashboard for Lumeta is a framework for ESI events to be visualized, sliced, and diced from the Splunk Enterprise web user-interface.
"While the Splunk dashboard for Lumeta ESI is fantastic, this is only a first step, and we are just scratching the surface in terms of the power we will unleash to customers by delivering real-time network events into Splunk Enterprise," said Matt Webster, chief technology officer of Lumeta. "The Lumeta ESI product development roadmap calls for Lumeta to adopt Splunk's Common Information Model (CIM). Once this capability is available, ESI will be able to integrate seamlessly into Splunk's apps such as the Splunk App for Enterprise Security."
Lumeta ESI users can download the dashboard from the Customer Support Portal: https://support.lumeta.com/
About Lumeta Corporation:
Lumeta's network situational awareness solutions identify and map every IP connected device on a network and discover inbound and outbound leak paths, giving IT management a clear, comprehensive assessment of network vulnerabilities, cyber-threat risks, and policy violations from network edge to core. Lumeta provides foundational intelligence required to make decisions impacting security, compliance, and availability. Lumeta's products deliver an efficient and cost-effective process to streamline network consolidation (M&A) projects, as well as address today's security initiatives associated with BYOD, Mobility, Cloud, Outsourcing, SDN, Access Control, and Big Data, which increase the complexity of a network and compromise traditional security defenses. Lumeta optimizes other network and security product investments with accurate and fact-based network intelligence. Headquartered in Somerset, New Jersey, Lumeta has operations throughout the world. More information is available at http://www.lumeta.com
Lumeta, the Lumeta logo, IPsonar, and the IPsonar logo are trademarks and service marks of the Lumeta Corporation. Other product and company names appearing in this document may be trademarks of their respective owners.