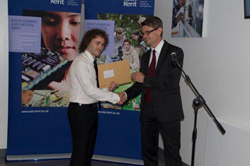 Harlow, Essex (PRWEB UK) 25 July 2014
Haag-Streit UK (HS-UK), the leading manufacturer and distributor of gold-standard optometry and ophthalmic equipment, is proud to have recently sponsored the prize for 'Best Biomedical Engineering Project' at the University of Kent, Canterbury (UKC).
On Wednesday 16th July, students from the School of Engineering and Digital Arts (EDA), attended the 'Degree and Prize Giving Day' hosted by UKC at the Canterbury Cathedral in Kent.
Dean Johnson, HS-UK Managing Director, joined the EDA graduates at their awards ceremony, where he presented the 'Haag-Streit UK-sponsored prize award' to the deserving winner, Alex Cole.
Alex was presented with the 'Best Biomedical Engineering Project award' for his medical imaging, engineering achievements.
A student at UKC for four years, in this time Alex studied a MEng programme in Electronic & Communications Engineering, and graduated with a single honours degree.
Dean Johnson, HS-UK Managing Director, said, "It was my pleasure to present Alex with the 'Best Biomedical Engineering Project award', it was very well deserved. Alex is a talented engineer, with an exciting and promising career ahead of him. I wish him well."
For more information please contact Haag-Streit UK on (01279) 414969.
For news media enquiries, please contact:
Emily Byham
Marketing Co-ordinator
Email: ebyham(at)haag-streit-uk(dot)com
DDI: 01279 456260
Mobile: 07900 828709
About Haag-Streit UK
Haag-Streit UK sells a complete line of optometry and ophthalmic equipment and has distributorships for some leading brands, such as; Haag-Streit International, Ellex and CenterVue and Haag-Streit Surgical (formerly Möller-Wedel).
A former division of Clement Clarke International Limited, Haag-Streit UK has evolved since 1917 from a dispensing optician with one branch in London, to a manufacturing company which has designed and manufactured products such as the Perkins tonometer and Synoptophore.
These brands are marketed directly within the UK and through a network of distribution partners in more than 60 countries.
In 1989 Clement Clarke became part of the Swiss-based Haag-Streit Group and in 2001 began trading under the name Haag-Streit UK.
Haag-Streit UK promotes prevention, early detection, careful monitoring and effective treatment of retinal disease, glaucoma, corneal disorders, ocular motility and visual defects.
The organisation is dedicated to providing tailored solutions through the integration of information technology, leading brand ophthalmic instruments and unparalleled customer care. It focuses on the individual requirements of both the professional and the patient.
For additional information about Haag-Streit UK and its product portfolio, please visit http://www.haagstreituk.com.