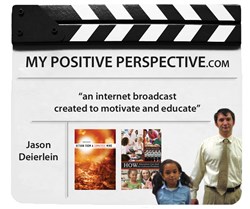 Business can select from basic exposure to optimal exposure based on their needs.
Charleston, SC (PRWEB) October 22, 2013
On October 21, 2013, My Positive Perspective broadcast an episode that marked a significant milestone for the internet show. Host Jason Deierlein was joined by head marketer Philicia Baugh as the two announced an amazing opportunity for businesses. In the beginning of the episode, Deierlein said, "After months and years of building my product and message, my company is now established enough to offer this affective and cost friendly method of allowing profitable companies the opportunity to align themselves with a positive voice and cause."
After finishing the statement, Baugh nods her head in agreement and ads, "Jason, I have had a lot of fun creating these packages because companies want information on how they can support as well as how they can get involved. Companies have an opportunity to get so much exposure for a little amount of money. The packages range from 75-325 dollars and range in basic exposure to optimal exposure and have that seen by hundreds of thousands people."
Deierlein then says, "I created this outlet of mine not just for the purpose of benefitting the community, but also to increase the positivity of businesses. The topic of helping is twofold; you can't just help individuals without helping businesses or vice versa, my company helps both sectors of society."
At the conclusion of the episode, Deierlein asks Baugh how companies can get in touch with her if their business would like to sponsor a My Positive Perspective episode. Baugh replies, "I encourage companies to reach out to me, I can be emailed at info(at)thebaughagency(dot)com or I can be reached by phone. My agency greatly looks forward to helping companies realize their full potential by sponsoring a My Positive Perspective episode."
My Positive Perspective is a media outlet believing that improvement in our community will be best achieved by focusing on the good things happening in our world today. Having survived a near fatal car accident as a youth, a shift of perception forced one to have a mentality of always concentrating on the brighter sides of things. This was true, and in my book, Return From a Comatose Mind, this belief was put to the test. Appreciation for life was the biggest thing one took away from my brush with death, and it is because of that gives me such a huge desire to be helpful to many. My Positive Perspective is a way of overcoming challenges through positive thinking.